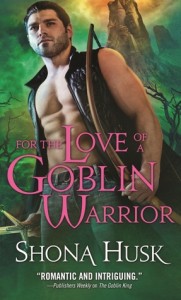 Format Read: ebook provided by NetGalley
Number of Pages: 352 pages
Release Date: January 1, 2013
Publisher: Sourcebooks Casablanca
Series: Shadowlands #3
Genre: Paranormal Romance
Formats Available: Mass Market Paperback, ebook
Purchasing Info: Amazon | B&N | Kobo | Book Depository US | Book Depository (UK) | Author's Website | Publisher's Website | Goodreads
Book Blurb:
Centuries ago, Meryn was thought to be utterly lost–all traces of his soul given up to the ravening goblin horde. But with the curse that enslaved him now broken, he must once again learn to walk in the realm of men.

Nurse Nadine Gilbert likes working the night shift to avoid her disturbing dreams, but her mysterious new patient looks hauntingly familiar. Meryn knows he doesn't deserve a second chance, but Nadine brings out his long-buried human side. Telling her the truth about his violent past could destroy their fragile trust. Could she ever believe in the love of a Goblin Warrior?
My Thoughts:
If you've read Husk's The Goblin King and Kiss of the Goblin Prince, then this book absolutely provides closure for the series. And if you like your heroes on the seriously tormented side, then this is a series you must try. The Goblin King (reviewed at Reading Reality) was a darkly sensual twist on Beauty and the Beast with a unusual twist on the beastly hero.
For the Love of a Goblin Warrior has the feeling of bringing everything to completeness. In Kiss of the Goblin Prince (also awesome, see review here at BLI), part of Dai's journey to wholeness is to rescue Meryn from the shadowlands, but there's this gaping hole left in the story, because we don't know what happened to Meryn.
So it seems like the right way to end the series to find out what happened to Meryn.
Also, the three men's stories, both before the rebellion all those centuries ago, and now their responses, show such different paths. The fitting end to the series is to read Meryn's tale.
Roan was king. He led the rebellion. The curse on him pulled all of them into the shadowlands. Breaking his curse broke it for all. He had to be the leader, always.
Dai fought the curse through amassing knowledge. He never stopped learning. And he was always behind his brother. They were the royal family. Leadership was their life.
Meryn was just a warleader. His position was important, but he wasn't royal. He had a full life in the past. A wife he loved, and children. He didn't just lose his position with the rebellion, he was forced to watch the murder of his family.
Since he couldn't turn to drink or drugs to numb his pain in the shadowlands, he went goblin. He gave in to the curse completely.
His quick submission inspired the others to fight the curse to the bitter end. But Meryn survived through the centuries, forgetting his humanity–until the day it all came rushing back. Breaking the curse made him human again, and the goblins knew him for prey once again.
Dai rescued him from the shadowlands, but Meryn couldn't let the shadows go. He still needed to grieve for the family he'd left behind, and for the world that had passed him by. He was a stranger in a very strange land.
The police brought him to the hospital, thinking that he was homeless and psychotic. Something about the sword he was still carrying gave them the wrong impression. The nurse recognized that he wasn't quite that bad off, but that the language he spoke was Latin. And she couldn't figure out why a seemingly homeless man was speaking a scholar's tongue.
That nurse, Nadine, was the most beautiful woman Meryn had seen in a long time, but at first he was more attracted by the gold crucifix around her neck. He hoped that if he stole her gold, he could find a way back to being goblin again.
It only took days to realize that there was no going back, and that he had no desire to. Not only was he human again, but that it wasn't a bad thing to be.
Too bad that he seemed to have brought a piece of the shadowlands with him to this "Fixed Realm", and that he had started his new life by stealing something precious from the one person he really wanted to see more of.
Little did he know that Nadine's life had already been marked by the Shadowlands. Only the truth might have a chance at healing their scars.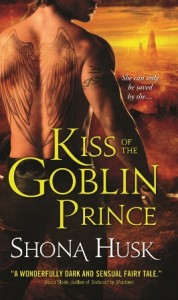 Verdict: For the Love of a Goblin Warrior gets off to a much slower start than either The Goblin King or Kiss of the Goblin Prince. It's right for this story, but as a reader you do want the author to pick the pace up just a bit.
Meryn's story does require some set up. He's lost in the 21st century, and he's lost in the city of Perth. He thinks that any help he accepts from his cousin Dai is charity, where Dai believes that Meryn earned that help many times over.
Maybe if they'd just had a good knock-down fight it would have cleared the air quicker.
Nadine's story is amazing. The Goblin King is a fairy tale book she inherited from her mother. A mother that she believes was killed by her father. Her father believes that her mother was killed by the goblins during the solstice hunt, but he couldn't prove it. Nadine witnessed the whole thing, but she was 7 and totally blocked the memory. Talk about a nightmare! And yes, she has doozies!
Nadine and Meryn need each other to heal. But to do that, they both have to stop lying by omission, and they're equally guilty. There are no major external enemies here, just the demons within.
One thing that did get me…there were several times when Meryn makes the shadowlands manifest on this side. I'm not totally sure that was adequately explained. Did he do that all on his own? If so, how and why? Then how was he suddenly able to stop?
But if you read The Goblin King and Kiss of the Goblin Prince, you must read the For the Love of a Goblin Warrior. Not just to see Meryn and Nadine earn their happy ending, but also to complete the Shadowlands saga.

I give For the Love of a Goblin Warrior by Shona Husk 4 darkly glittering stars.
***FTC Disclaimer: Most books reviewed on this site have been provided free of charge by the publisher, author or publicist. Some books we have purchased with our own money and will be noted as such. Any links to places to purchase books are provided as a convenience, and do not serve as an endorsement by this blog. All reviews are the true and honest opinion of the blogger reviewing the book. The method of acquiring the book does not have a bearing on the content of the review.
Related Posts