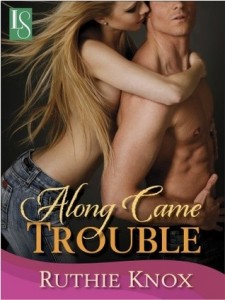 Format Read: ebook provided by the publisher
Number of Pages: 350 pages
Release Date: March 11, 2013
Publisher: Loveswept (Random House)
Series: Camelot #2
Genre: Contemporary Romance
Formats Available: ebook
Purchasing Info: Amazon | B&N | Kobo | Author's Website | Publisher's Website | Goodreads
Book Blurb:
Ruthie Knox's Camelot series continues in this sizzling eBook original novel, featuring two headstrong souls who bump heads—and bodies—as temptation and lust bring nothing but delicious trouble.

An accomplished lawyer and driven single mother, Ellen Callahan isn't looking for any help. She's doing just fine on her own. So Ellen's more than a little peeved when her brother, an international pop star, hires a security guard to protect her from a prying press that will stop at nothing to dig up dirt on him. But when the tanned and toned Caleb Clark shows up at her door, Ellen might just have to plead the fifth.

Back home after a deployment in Iraq and looking for work as a civilian, Caleb signs on as Ellen's bodyguard. After combat in the hot desert sun, this job should be a breeze. But guarding the willful beauty is harder than he imagined—and Caleb can't resist the temptation to mix business with pleasure. With their desires growing more undeniable by the day, Ellen and Caleb give in to an evening of steamy passion. But will they ever be able to share more than just a one-night stand?
My Thoughts:
I love a good bodyguard romance. And Ruthie Knox' Along Came Trouble does fit into that category, even though the main characters spend a good chunk of the book denying that Caleb Clark really is Ellen's bodyguard.
But if the role fits…(and does it ever!)
It also fits Ruthie Knox' own pattern of one character who needs to forgive themselves (in this case Ellen) and one character being way too good for their own good (in this case the yummy almost-bodyguard, Caleb)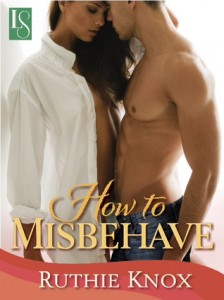 For more Ruthie Knox yummyness, take a look at the first Camelot story, How to Misbehave (reviewed here at BLI) or my personal fave, About Last Night, reviewed at BLI and at Reading Reality.
The secondary plot involving Ellen's brother Jamie, the Justin Timberlake-alike singing sensation and the pregnant girl he loves and left (he's not the one who got her pregnant) just adds to fun and games, but also provides the reason for bodyguard to be involved in the first place.
Jamie is the hotttest star that ever came out of Camelot, Ohio. His on again/off again relationship with Carly has brought the paparazzi out in packs. Carly lives next door to his sister Ellen.
Jamie's people hire a local security firm to manage the chaos that ensues. Enter Caleb, head of security for that local firm.
Caleb starts out just wanting to make sure both women are safe. He knows that somewhere in the pack of photographers is someone who will do something really wrong, like break into one of their houses to steal something juicy. Or even just to get a sneak-attack type interview or picture.
What he doesn't count on is seeing Ellen attack a trespassing photographer with a glass of iced tea. It turns him on. He goes over to back her play. For a few precious minutes, they are on the same side.
Caleb doesn't know about Ellen's serious problems with boundary issues. All she sees is a man who wants to change the house that is her sanctuary. No matter what his reasons, he's an invader. She's sure Caleb just wants to manage her.
She's been down that road with her ex-husband. Ellen feels like she can't depend on anyone, because the last man she depended on turned out to be an alcoholic and an emotional abuser. It took her a long time to find her own self-worth.
Now she can't give an inch. Not even when it seems reasonable.
Verdict:  There are two stories, and they both absolutely rock! Ellen has so much angst about her former marriage, that she can't quite manage to pull down the walls. And she's spent her whole life being Jamie Callahan's sister, taking care of his career, she doesn't even know how to put herself first. Or even a good second. Then there's Caleb, he quit the MPs to come home and help his folks out, but he gets nothing but resentment and back-handed undermining of his efforts.
Falling for each other wasn't in either of their plans. It also makes the whole situation more combustible, when Jamie Callahan comes home to un-screw up his own love life. Except he can't help but bring the paparazzi with him. Spectacularly.
All the reader can do is hang on for the absolutely glorious ride.
I give Along Came Trouble by Ruthie Knox 5 spangled stars!

***FTC Disclaimer: Most books reviewed on this site have been provided free of charge by the publisher, author or publicist. Some books we have purchased with our own money and will be noted as such. Any links to places to purchase books are provided as a convenience, and do not serve as an endorsement by this blog. All reviews are the true and honest opinion of the blogger reviewing the book. The method of acquiring the book does not have a bearing on the content of the review.
Related Posts