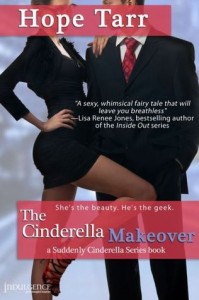 Format read: ebook provided by NetGalley
Series: Suddenly Cinderella, #2
Genre: Contemporary Romance
Release Date: March 11, 2013
Number of pages: 146 pages
Publisher: Entangled Publishing
Formats available: ebook
Purchasing Info: Amazon | B&N | Kobo | Book Depository US | Book Depository (UK)
Fashionista Francesca St. James has agreed to work as a "fairy godmother" on the reality TV show Project Cinderella, taking contestants from geeky to dreamy. When Francesca's archrival bets she can't transform the awkwardly sweet CEO to hot in under eight weeks, Francesca accepts the challenge.
As CEO of a tech company, Greg may have billions, but what's it worth without a woman to share it with? From day one on the show though, he clashes with his gorgeous fairy godmother—yet off-set, he can't stop thinking about her. But this sexy woman is so far out of his league…and wants to change every single thing about him. It's up to him to show her it's more than clothes that make the man.
May the best man or geek win…
My Thoughts:
Do clothes make the man? Can magic ruby red slippers, (in this case, they're stilettos) bring good luck and true love?
In The Cinderella Makeover there are a whole lot of tropes and myths that come out to play. Even when they're turned sideways and set to dance, the way that they play off each other makes for a surprisingly good story.
Francesca St. James and Gregory Knickerbocker have met once, and it was not a "meet cute". He's one of those high-tech billionaires like Mark Zuckerberg, young, geeky, fashion-challenged and eccentric. Make that extremely eccentric. He won't pose for a photograph.
He tanks Francesca's photojournalism career when he screws over her appointment to photograph him for GQ. Her polished Brit professionalism hit all of his awkward buttons, and he acted like a brat. A very wealthy and influential brat.
18 months later she's still losing assignments and money. She's also lost custody of her daughter in pursuit of assignments and her lost prestige. But Greg Knickerbocker is also hurting. He's passing thirty and has been dumped by his 100th woman. Not a milestone to celebrate.
They both fall into the orbit of "Project Cinderella", a new reality TV show. Greg becomes a contestant. He hopes that a new look and complete style makeover will give him the personal confidence boost he needs to finally find his soul mate.
Francesca signs on as a fairy god-mentor. The money she'll earn is enough to let her spend the summer with her estranged daughter…without having to jet around the globe working.
But the moment that Francesca and Greg spot each other, the sparks begin to fly, along with the pasta sauce.
When Francesca makes a foolish bet with her arch-nemesis that Greg will win the contest, she breaks all the rules to turn the geek into prince charming. The more time they spend together, the more they realize that instead of loathing each other, they might be just what the other one needs.
Verdict: Francesca and Greg are both wounded when the story begins. Admittedly, some of that damage is self-inflicted, and a bit of it comes from their initial encounter. But most of what's wrong with them is a lot deeper than that.
Greg may be rich, but he wasn't born with a silver spoon in his mouth. He earned his money by being pretty darn obsessive. He loves what he's doing, but he hasn't had time for a life. Geekiness pays, but not in social skills. As an adult, he's continued the pattern because it's comfortable, and it's defensive. But it's also lonely. He knows happy marriages exist (his parents had one) but he's afraid to come out of his shell.
Francesca is also obsessive about work. She's so obsessive that she lost custody of her daughter. There was also some stupidity about self-absorbed boyfriends in that mix. But Francesca has the same knowledge that Greg does about loneliness and not taking care of the right things.
They're good for each other if they can stop pushing each other away.
The story is a visit to troperville. Greg is more of an ugly duckling than cinderella, in spite of the title. Cinderella wasn't a billionaire, or her kingdom's equivalent. Or Greg is the Frog Prince. Is it my imagination, or is it common in stories when the "Cinderella" is male, is he usually wealthy?
About the shoes. The Suddenly Cinderella series (BLI review of Operation Cinderella here) is linked by the handing on of a pair of magic red stilettos that help each woman discover true love and happiness. So it's possible that Francesca is the Cinderella in this story. She's not wealthy and she does marry a prince who rescues her.
Francesca has her own fairy godfather in this story. You'll laugh when you figure out who it is.
The Cinderella Makeover is a lot of fun. Setting the story during the filming of a reality TV show was very effective, and I don't even like reality TV!

I give  The Cinderella Makeover by Hope Tarr 4 glittering stars!
***FTC Disclaimer: Most books reviewed on this site have been provided free of charge by the publisher, author or publicist. Some books we have purchased with our own money and will be noted as such. Any links to places to purchase books are provided as a convenience, and do not serve as an endorsement by this blog. All reviews are the true and honest opinion of the blogger reviewing the book. The method of acquiring the book does not have a bearing on the content of the review.
Related Posts