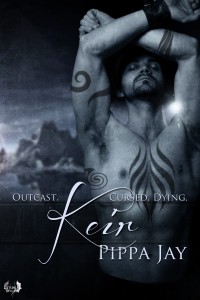 Format read: ebook provided by the author
Genre: Science Fiction Romance
Release Date: July 7, 2012
Number of pages: 266 pages
Publisher: Lyrical Press
Formats available: ebook, paperback
Purchasing Info: Author's Website | Publisher's Website | Amazon | B&N | Kobo | Book Depository US | Book Depository (UK)
Outcast. Cursed. Dying. Is Keir beyond redemption? For Keirlan de Corizi–the legendary 'Blue Demon' of Adalucien–death seems the only escape from a world where his discolored skin marks him as an oddity and condemns him to life as a pariah. But salvation comes in an unexpected guise: Tarquin Secker, a young woman who can travel the stars with a wave of her hand. But Quin has secrets of her own. She's spent eternity searching through space and time with a strange band of companions at her back. Defying her friends' counsel, Quin risks her apparent immortality to save Keir. She offers him sanctuary and a new life on her home world, Lyagnius. When Keir mistakenly unleashes his dormant alien powers and earns instant exile from Quin's home world, will she risk everything to stand by him again? WARNING: Contains sweet romance, some violence and plenty of adventure.
My Thoughts:
Keir is an absolutely stunning work of science fiction romance. when I say stunning I mean that in the best possible sense of the word. When I finished I just sat staring for several minutes, because I couldn't quite pull myself away from the story's spell.
Tarquin Secker comes to Adalucien pursuing the legend of the "Blue Demon". In the bowels of the royal prison, she finds an emaciated young man on the brink of death, with tattoos and rags covering his blue skin.
Keirlan de Corizi is not the demon she came for. But Quin wouldn't leave any sentient being in those inhumane conditions. So she blows up the prison just like she planned. Except it's not quite like she planned. The prison very nearly crushes her to death.
Instead of her rescuing Keir, he saves her life. Then she saves his. And then, of course, things get seriously messy.
Keir is not exactly the "Blue Demon" she was looking for. But he's not exactly not, either. Which isn't to say that his entire planet doesn't firmly believe that he IS the legendary Blue Demon. Who really did exist. Who has to have existed, because she's Keir's direct ancestor.
She was also the person who destroyed Quin's homeworld and Quin has been searching for her ever since. Because in the process, she accidentally gave Quin a whole lot of interesting and dangerous powers. And sent her best friend wandering among the many worlds.
Quin is on a quest to find the original Demon, the Sentiac. At first, she saves Keir because he needs saving. Because she feels a kinship. His ancestry gives him a touch of the same power that she has.
But as he heals from all the damage that has been done to him, she discovers that Keir may be what she has been waiting for all the long centuries that she has been on her search. He may be a companion for the long years she has ahead.
If he can heal from everything that has happened to him. If he can learn to control the power that he now knows he has. If, most important of all, they can learn to trust each other with their many (and in Quin's case, many times many) secrets.
Verdict: Keir was one of the winners of the SFR Galaxy Awards for 2012. (Full disclosure, I was one of the judges) The question among the other judges wasn't whether Keir was going to get an award, the question was who would get to give it one. This was a favorite, but I hadn't read it.
Now I know why everyone loved it so much.
The opening absolutely grabs the reader by the throat. Keir is in chains and you can feel the dungeon closing in around him. Quin sudden drop into his grey world is a jolt to him and the reader. Her disappointment that he isn't who she expected and her complete unwillingness to let him die pull you into her point of view.
Their relationship builds slowly and realistically. Keir has no idea what it's like to love and be loved. He is literally his world's pariah. He can't imagine that anyone could ever love him. Quin has loved and lost profondly in ways that are beyond Keir's experience. She is three centuries old, and he is barely twenty. Not just May and December, but April and Methuselah, no matter that Quin appears to be in her late twenties.
The book has an element of two stories combined into one. The first part is Keir's rescue and training, and the first mission to find the original "Blue Demon". It's Keir's discovery of who he really is and where and what he came from. His search for identity.
The second part is Quin's mission to train Keir to use his power, because he is a danger to everyone around him. This mission takes the form of exile from Quin's homebase. While visiting one of Quin's old friends, she runs headlong into one of her old enemies. And it's there that her relationship with Keir finally flowers.
Be prepared for the ending. It will absolutely blow you away!

I give  Keir by Pippa Jay 5 glorious stars! 
***FTC Disclaimer: Most books reviewed on this site have been provided free of charge by the publisher, author or publicist. Some books we have purchased with our own money and will be noted as such. Any links to places to purchase books are provided as a convenience, and do not serve as an endorsement by this blog. All reviews are the true and honest opinion of the blogger reviewing the book. The method of acquiring the book does not have a bearing on the content of the review.
Related Posts