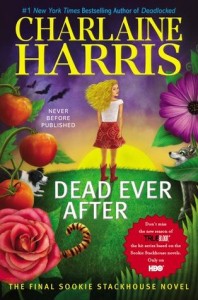 Format read: ebook purchased from Amazon
Series: Sookie Stackhouse, #13
Genre: Urban fantasy
Release Date: May 7, 2013
Number of pages: 352 pages
Publisher: Penguin Publishing
Formats available: ebook, paperback, hardcover, audiobook
Purchasing Info: Author's Website | Goodreads | Amazon | B&N | Kobo | Book Depository US | Book Depository (UK)
There are secrets in the town of Bon Temps, ones that threaten those closest to Sookie—and could destroy her heart….

Sookie Stackhouse finds it easy to turn down the request of former barmaid Arlene when she wants her job back at Merlotte's. After all, Arlene tried to have Sookie killed. But her relationship with Eric Northman is not so clearcut. He and his vampires are keeping their distance…and a cold silence. And when Sookie learns the reason why, she is devastated.

Then a shocking murder rocks Bon Temps, and Sookie is arrested for the crime.

But the evidence against Sookie is weak, and she makes bail. Investigating the killing, she'll learn that what passes for truth in Bon Temps is only a convenient lie. What passes for justice is more spilled blood. And what passes for love is never enough…
My Thoughts:
"I'm Sookie Stackhouse. I belong here." THE END.
Except for the capitalized end, Sookie pretty much declaring that there's no place like home really is the last line of Dead Ever After. We just had to read through 13 books to get there.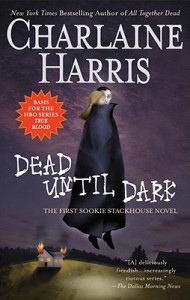 What's hard to believe is that in the Sookieverse, it's only 2 years of her life, because it's taken 12 years out of the rest of us. Dead Until Dark was unleashed on the world in 2001. Practically a whole lifetime ago.
Sookie's lifetime, anyway. (If you're searching for perspective, Harry Potter had found the Goblet of Fire, but had not yet joined the Order of the Phoenix. No Horcruxes were even on the bloody horizon in 2001. Dumbledore was still alive!)
Back to Sookie. In Dead Ever After, all of the chickens from all of Sookie's previous outings come home to roost. Pretty much everyone she has ever met gets at least a mention.
Nearly all her old friends who are alive pay her a visit. Most of them come to support her in her hour of need. And does she ever have a need!
Because all her old enemies return to do her one final bad turn. Some of them want her very, very dead. And some of them want to hurt her so bad, she'll just wish she was dead.
Every loose end that might possibly be left in Sookie's story gets tied up tight, nearly in the shape of a handman's noose around her neck.
And while Sookie investigates, not necessarily successfully, to figure out who her enemies are, she also figures out who her friends are. She has a lot more friends than she believed. Sookie has always sold herself short, never thinking that she had made as many friends as she has.
Most important of all, she finally grows a pair and protects her heart, instead of continuing to be Eric's doormat. Eric has always put himself first, and it's high time that Sookie did the same.
Verdict: The first books in the Sookie Stackhouse series were magical, because Sookie was on an incredible voyage of discovery. The last few have been kind of a chore, because Sookie let herself become dependent on Eric. She got weak and whiny and bitchy.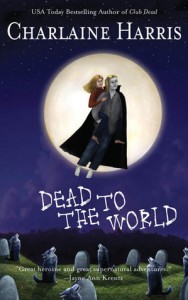 The only time I thought Eric really loved Sookie was when he had amnesia (Dead to the World) and forgot to be the manipulative bastard he really is. Otherwise, Eric puts Eric first. He always has and he always does. It's a survival instinct that has kept him alive for more than a thousand years.
Here's a question about vampire romances in general: what does someone who is over a thousand years old have in common with a 20-year-old? This isn't about looks or possibly even brains, but what do they talk about? What are their shared experiences? Why would this relationship possibly work?
How could Sookie ever be anything except a subordinate (and I don't mean this in a sexual context necessarily)? Even if Eric turned her, which she expressly did not want, it would be centuries before she acquired enough experience to approach a level of equality. And, as was shown in Club Dead, the vampire who sires another vampire has control over that vampire for the rest of their unnatural lives. If Eric had turned Sookie, he would always be in control of her and their relationship.
Sookie started the books as an independent person. The one being in her life for whom she continually made excuses and ceded that independence was Eric. I wish she'd kicked him to the curb sooner.
The double-mystery that sets this story in motion is a little weak. It mostly provided an excuse to "get the band back together" and have everyone that Sookie has ever met parade through her life one last time. I'm almost certain that every living or unliving soul that Sookie has crossed paths with got a mention except Bubba.
But the point was to make sure that Sookie took stock and resolved all her issues with the supe community, and she does that. The mystery is just an excuse to put her in jeopardy, so the troops rally round.
Sookie also had the opportunity to choose between Eric, Bill and Sam. While admittedly she could have chosen to be happily single, that wasn't likely to be a resolution for the story and it wouldn't have tied up the romantic loose ends.
Eric wanted her to be his "piece on the side" while he married someone else. Bill wanted her to forgive him for deceiving her, for betraying her, and, let's not forget, for raping her.
And Sam, a while back he made her half owner of his bar, because she's been so supportive of him. She didn't need to put in any money. Sam counted her sweat-equity and her support more than enough of a contribution.
I know who I'd pick. And I know who I wouldn't choose if he were the last man or vampire on Earth.

I give  Dead Ever After by Charlaine Harris 3 and 1/2 furry stars!
***FTC Disclaimer: Most books reviewed on this site have been provided free of charge by the publisher, author or publicist. Some books we have purchased with our own money and will be noted as such. Any links to places to purchase books are provided as a convenience, and do not serve as an endorsement by this blog. All reviews are the true and honest opinion of the blogger reviewing the book. The method of acquiring the book does not have a bearing on the content of the review.
Related Posts