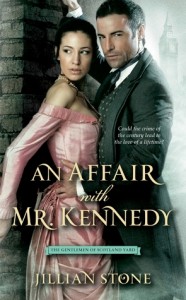 Format read: ebook purchased from Amazon
Series: The Gentlemen of Scotland Yard, #1
Genre: Historical Romance
Release Date: Jan. 31, 2012
Number of pages: 400 pages
Publisher: Pocket Books
Formats available: ebook, mass market paperback
Purchasing Info: Author's Website | Goodreads | Amazon | B&N | Kobo | Book Depository US | Book Depository (UK) | Publisher's Website
London, 1887. Part stoic gentleman, part fearless Scotland Yard man, Zeno "Zak" Kennedy is an enigma of the first order. For years, the memory of a deadly bombing at King's Cross has haunted the brilliant Scotland Yard detective. His investigation has zeroed in on a ring of aristocratic rebels whose bloody campaign for Irish revolution is terrorizing the city. When he discovers one of the treacherous lords is acquainted with his free-spirited new tenant, Cassandra St. Cloud, his inquiry pulled him unexpectedly close to the hear of the conspiracy — and into the arms of a most intriguing lady.

Cassie is no Victorian prude. An impressionist painter with very modern ideas about life and love, she is eager for a romantic escapade that is daring and discreet. She sets her sights on her dour but handsome landlord, but after she learns their meeting was not purely accidental, she hardly has a chance to forgive her lover before their passionate affair catapults them both into a perilous adventure.
My Thoughts:
Somewhere in my apartment there's a print ARC of this book. That's not the copy I read.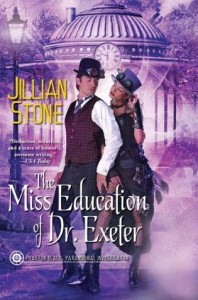 I finished Ms. Stone's Miss Education of Dr. Exeter, and wasn't quite ready to let go of the author. Because that particular entry in her paranormal/steampunk Phaeton Black series clung somewhat more closely to the definitely romantic than earlier entries in the series, I wanted to see what she did with something less eerie and more strictly gaslight-Victorian, and remembered The Gentlemen of Scotland Yard.
Enter Mr. Kennedy, and the copy fortuitously on my Kindle app.
The fascinating thing about the The Gentlemen of Scotland Yard series in general is that Ms. Stone is featuring an agency that presages James Bond and his famous license to kill. The men of Mr. Kennedy's Special Branch hunt for bombers, traitors, spies and agents provocateurs. Because of the era they live in, the agents in this particular story are fomenting both sides of the Irish Home Rule issue. With incendiary, or shall we say  explosive, results.
Mr. Kennedy himself, Zeno Augustus Kennedy, Zak to his friends, is the number two man in Special Branch. He is a younger son of the aristocracy, but as he has to make his own living, he's simply chosen a somewhat unorthodox way of doing so.
His investigations of an upper-crust ring of possible Irish radicals, or maybe upper-class lords willing to take advantage of the resulting panic from Irish radicals, leads him to a beautiful artist with ties to two potential suspects. Unfortunately for Zak, once he meets Cassie St. Cloud, suspecting her of anything other than distracting him from his goals is the last thing on his mind.
Unfortunately for Cassie, she is already a pawn in the game. Involvement with Zak merely raises her position on the board from pawn to queen.
Verdict: An Affair with Mr. Kennedy is a terrific start to The Gentlemen of Scotland Yard series. It sets up the Special Branch as a whole, and provides a great introduction to the men who become the heroes of the next several books. Which I was swept into one after another.
Zak and Cassie are a great pair, because they are equals. One of the fun things about this book, and the series as a whole, is that the heroes and heroines are not dukes and earls or lords and ladies, although Cassie has a title by marriage. Everyone works, and it makes the characters, both the men and the women, easy for us readers to empathize with.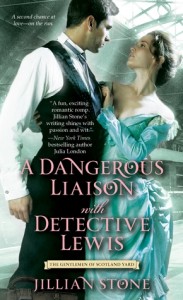 Cassie is a professional artist. She's no lady of leisure. She has a career that is every bit as important to her (although not normally as bloody) as Zak's. Her expertise helps him save the day. They are, in very real ways, partners.
The history blending into the story was also a hoot. Cassie has very real parallels in Mary Cassatt, and, of course, Irish Home Rule was very hotly debated during this period. The idea that there would be unscrupulous people attempting to both create chaos and take advantage of it makes too much sense.
Mixing this with the birth of criminal forensics makes things a load of fun. I'm so glad there are more in the series. (I'll confess that I immediately dove right into the next book, A Dangerous Liaison with Detective Lewis, with barely time for breath in between.)

I give  An Affair with Mr. Kennedy by Jillian Stone 4 stars!
***FTC Disclaimer: Most books reviewed on this site have been provided free of charge by the publisher, author or publicist. Some books we have purchased with our own money and will be noted as such. Any links to places to purchase books are provided as a convenience, and do not serve as an endorsement by this blog. All reviews are the true and honest opinion of the blogger reviewing the book. The method of acquiring the book does not have a bearing on the content of the review.
Related Posts