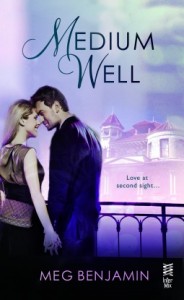 Format read: ebook purchased from Amazon
Series: Ramos Family/Medium Trilogy, #1
Genre: Paranormal Romance
Release Date: Feb. 2nd, 2013
Number of pages: 296 pages
Publisher: Berkley InterMix
Formats available: ebook
Purchasing Info: Author's Website | Goodreads | Amazon | B&N | Kobo | Publisher's Website

Real estate agent Danny Ramos has always had a knack for selling homes, but when his boss saddles him with a neglected carriage house, Danny discovers that his abilities are more than simple intuition…

On his first visit to the house, Danny is confronted with visions of a violent murder. His assistant, Biddy Gunter, doesn't seem affected, and Danny starts to think he's going crazy—until he gets a visit from his mother, who suggests that Danny's uncanny talent to sell old houses may stem from his family inheritance: psychic empathy.

When Biddy reveals to Danny her own strange dream about the carriage house ghosts, they team up to investigate and discover both the house's dark history and their own unexpected attraction. But as the hauntings turn from unsettling to downright dangerous, Danny and Biddy need to figure out how to rid the house of its ghostly inhabitants, before their budding romance meets an untimely end…
My Thoughts:
We were just in San Antonio for WorldCon and took a bus tour that went around the King William area where this book (and the series) takes place. The residents of the area are too snooty too allow the tours to drive through. Small world.
But the houses are old, Victorian, and definitely did look like they either needed a lot of money or a lot of maintenance. Or both at once.
Who names their daughters Araceli and Biddy? I'm just saying…
Danny Ramos, on the other hand, not only sounds like, but apparently is, sex on a stick. And it's a quality he generally exploits in his off-work time. Possibly occasionally in his on-work time, there were a couple of moments when I wondered. But that's not this story.
You've heard of horse whisperers? Danny is a house-whisperer. Old houses tell him their secrets, and he is an expert at spinning those secrets into terrific stories that he uses to sell old houses to new owners. Expensive old houses.
Danny is a real estate agent, which should not be a novel-worthy profession, except when the house is demon-raddled. How does Danny know the house is possessed by a demon? At first, all he knows is that the house freaks him out, really, really badly. Then, he gets introduced to the woo-woo side of his family history, and discovers that his extra-special talent at selling houses is an extra-sensory talent.
Mom forgot to tell him that he comes from a very long line of mediums. The houses really are speaking to him. Or their ghosts are.
When the story opens, the biggest problem in Danny's life is that his paranoid boss Araceli is out to get him fired. By the end, his biggest problem is that he needs to burn down a historic carriage house to stop a soul eating demon from getting loose and possessing the good citizens of San Antonio.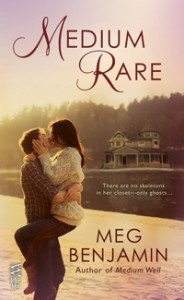 Verdict: This is way, way more fun than it ought to be based on the description. I was reading the next book in the series, Medium Rare, for a tour, and the recap of previous events sounded so wild that I couldn't resist getting this one just to see what the heck happened. This is pretty much of a hoot.
One of the bizarre things about the Ramos family is that the family talent for being a medium comes from the Riordan side, from their mother. Even weirder is that not only is Danny not supposed to have inherited the talent, but the Riordan side doesn't run to boys. He and his brother are the first males in the family in centuries. Mom's reactions to finding out that he has a demon to get rid of and that she has to own a talent she tried to forget are beyond interesting. Come to think of it, a book of mom's love story with dad and getting out of the "family business" might be pretty good.
I both liked Biddy and she drove me nuts. She has been letting her older sister Araceli dictate her life for much too long, but I don't have an exact fix on how old Biddy is. Gratitude, even for an extreme sacrifice, can only go so far. Biddy is a musician, and she's not just fantastic at it herself but she's fronting an absolutely awesome group. Biddy needs to devote herself to her music, and Araceli is pressuring her to give it up permanently. There's something wrong in that dynamic that weakens both characters and turns Araceli into a stereotypical paranoid career-ladder climbing bitch.
Biddy's family dynamics were not just awful but the resolution was too quick at the end. Danny's were terrific, even as the big family secret got revealed. And I loved the research into the house.
There is a romance between Biddy and Danny that is a big part of the story. These two people are both figuring out who they really are, as well as figuring out they belong together. They have to do the first before they completely manage the second.

I give  Medium Well by Meg Benjamin 4 stars!
***FTC Disclaimer: Most books reviewed on this site have been provided free of charge by the publisher, author or publicist. Some books we have purchased with our own money and will be noted as such. Any links to places to purchase books are provided as a convenience, and do not serve as an endorsement by this blog. All reviews are the true and honest opinion of the blogger reviewing the book. The method of acquiring the book does not have a bearing on the content of the review.