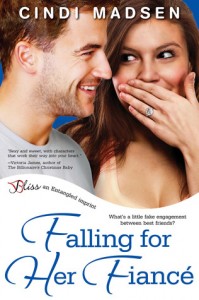 Format Read: ebook provided by the publisher
Number of Pages: 153 pages
Release Date: January 14, 2013
Publisher: Entangled Publishing
Genre: Contemporary Romance
Formats Available: ebook
Purchasing Info: Amazon | B&N | Kobo | Author's Website | Publisher's Website | Goodreads
Book Blurb:
Danielle and Wes have been best friends since college, so when Wes needs a date for his sister's wedding and Dani needs a partner for her company's retreat, they devise the perfect plan: a fake engagement to get through both events unscathed. Adrenaline-junkie Wes can prove to both his ex and his family that he's well and truly moved on, and serious-minded Dani can prove to her boss that she's worthy of the promotion he seems to only want to give to a family-oriented employee.

But amid the fake swoons, fake kisses, and forced proximity, neither expects the very real feelings that develop. There's nothing more dangerous than falling for your best friend…but what if the landing is worth the fall?
My Thoughts:
It's often difficult to figure out a plausible reason for a contemporary romance to use a "fake engagement" trope.
Falling for her Fiance double-dips, it combines the "fake engagement" trope with the friends-into-lovers story. Now that one is usually a LOT easier to manage in a contemporary romance, and that's actually what made it possible for Cindi Madsen to pull the fake engagement along for the ride.
Dani and Wes have been best friends since college. They were both slightly nerdy, combination history majors, basketball players and science fiction geeks. (We're all weird in our own way). They liked each other, they hung out a lot. They didn't date each other.
Just once, they tried stepping over that line from BFFs to something more, and the line stomped on them. It was the worst kiss EVER. Wes was so drunk he didn't remember kissing Dani, and Dani felt no chemistry whatSOever. None. Zip. Zero. Zilch. Nada.
They never went there again and it took their friendship weeks of persistence to recover.
Everyone assumed they were more than friends. Including everyone either of them ever dated. Dani's last boyfriend convinced her to move from Charlotte to Little Rock in the hopes of dislodging Wes from her life. Made things difficult, but didn't work.
Wes' ex-fiance was a general all-purpose bitch about Dani, but that didn't work either. Hence the ex-fiance.
Still, several years after college, Dani is a workaholic with no social life, and feels like she has no chance at promotion because she doesn't have a significant other to bring to couples-oriented outings at her family-friendly company.
Wes' sister has just invited his ex-fiance to be one of her bridesmaids at her wedding. He's just tired of the drama.
Instant brainstorm! They'll be each other's fake fiance for a month, be each other's backup at each other's events, and get a fantastic chance to be together. It'll be great!
And it is great. And nerve-wracking. Wes loves surprises. Like surprising his entire huge family with his "fiance", who only has her mother and grandmother and has no idea how to react to the giant crowd she's thrust into.
He's spontaneous. She's a planner. His family wants him to be happy. His ex wants him back. His sister is mad because he's stolen her show. And Wes has suddenly realized that he doesn't miss his ex after all. As long as Dani is with him, it's all good, all the time. He just has to find a way to keep her.
The more afraid Dani is of Wes' spontaneity upsetting her carefully constructed world, the more he helps her to see that it's the crazy things in life that make it worth living. Including the crazy thing they have between them!
Verdict: This is light and fun. The author did a good job setting the stage, making it clear that there was a reason that this couple hadn't moved beyond friendship, otherwise the story wouldn't have worked.
Wes did have a habit of not thinking things through that could have gotten him in real trouble. If the fake engagement hadn't turned real, his family was going to be very hurt. If they pitied him before, it was going to be worse after this stunt.
However, Dani had been drifting in her life for a long time. Whatever happened with her ex had socked her self-confidence, and that had been pretty low to begin with. She needed the cosmic kick in the pants.
Falling for her Fiance is one of the "New Adult" romances that have started appearing recently. The hero and heroine are older than young adults, but are still faced with the issues of establishing careers and lives post-college. I'm still not sure how that works as a separate genre.

I give Falling for her Fiance by Cindi Madsen 3 and 1/2 stars.
***FTC Disclaimer: Most books reviewed on this site have been provided free of charge by the publisher, author or publicist. Some books we have purchased with our own money and will be noted as such. Any links to places to purchase books are provided as a convenience, and do not serve as an endorsement by this blog. All reviews are the true and honest opinion of the blogger reviewing the book. The method of acquiring the book does not have a bearing on the content of the review.