Format Read: ebook from publisher
Number of Pages: 330 p.
Release Date: December 6, 2011
Publisher: Entangled Publishing
Series: The House of Arkhangel'sk #1
Genre: Paranormal romance / Fantasy romance / Angels and Demons
Formats Available: ebook, trade paperback
Purchasing Info: Goodreads, Amazon, Barnes & Noble, Publisher's Website, Book Depository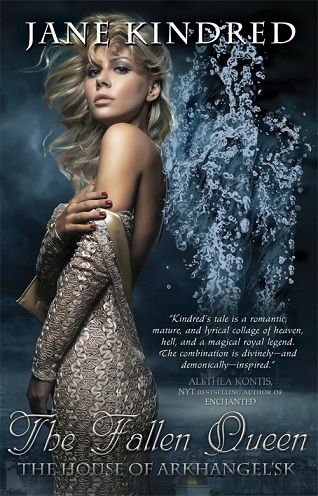 Book Blurb:
Heaven can go to hell.

Until her cousin slaughtered the supernal family, Anazakia's father ruled the Heavens, governing noble Host and Fallen peasants alike. Now Anazakia is the last grand duchess of the House of Arkhangel'sk, and all she wants is to stay alive.

Hunted by Seraph assassins, Anazakia flees Heaven with two Fallen thieves–fire demon Vasily and air demon Belphagor, each with their own nefarious agenda–who hide her in the world of Man. The line between vice and virtue soon blurs, and when Belphagor is imprisoned, the unexpected passion of Vasily warms her through the Russian winter.

Heaven seems a distant dream, but when Anazakia learns the truth behind the celestial coup, she will have to return to fight for the throne–even if it means saving the man who murdered everyone she loved.
My Thoughts:
This was originally posted at Book Lovers Inc.
I think it is going to be very, very important later, possibly much, much later, that this entire story is told as a flashback.  It's an intriguing plot device, and one that's easy to forget as you get caught up in this wild and compelling tale of fallen angels and risen demons, but the narrator is remembering the story she tells.
That means Anazakia, unlike her earthly counterpart (oh yes, that matters too) survives her trials. You can't narrate your memoirs unless you live to tell the tale.
There were four princesses and one sickly prince in the supernal House of Arkhangel'sk. And their fate is made to almost, but not quite, mirror the earthly history of the House of Romanov more than a century previous. The Romanovs also had four princesses and one sickly prince. But unlike the Romanovs, the youngest princess survived, and thereby hangs the proverbial tale.
Because she survived through magic. And it's magic that makes this story of power lost, power gained, and ultimately, power corrupted, different from history. It's also where it merges with myth.
There's also more than a touch of Hans Christian Andersen's Snow Queen, a very evil version, at the cold, dark heart of this story.
And then there are the angels, and the demons. Don't attach traditional definitions to these terms, because they aren't strictly applicable. Demons in this myth refer to those who have fallen from the supernal realms, or have mixed their blood with humans. Sin as we know it may or may not apply.
Righteousness, carried too far, can be much more deadly, and more damning, than any "fall from grace". And angels can be hoodwinked.
The best man in the story is a demon. The biggest fool is an angel.
At heart, this is a story about political power. The evil Snow Queen wants to control the Supernal Realms, so she stages a coup, using magic. Anazakia escapes, because she's in the wrong place at the right time, also using magic.
That's where the "fun" begins.  By escaping, Anazakia becomes more than the privileged daughter of the upper classes. She learns how the other half, several other halves (demons, fallen, humans) live. She fights for her life. She learns to love.
And she becomes part of a legend.
Or so she says. After all, she's the one telling the story.
The Fallen Queen fascinated me. The layers to it keep peeling back and there is just more stuff in each layer. Be warned, this story is not for the faint of heart. The Snow Queen is really evil, and characters get tortured in some seriously inventive ways. And as the interview with author Jane Kindred detailed, the demons Belphagor and Vasily are very into BDSM. (It's consensual between them, not so much when the Queen does the torture thing) The parallels between Russian history and the Supernal Realms are intentional, and must go somewhere in later books. This political density reminds me of the Kushiel books.
The Fallen Queen is the start of Anazakia's epic journey through dark places to find herself.
I give The Fallen Queen 4 1/2 stars

***FTC Disclaimer: Most books reviewed on this site have been provided free of charge by the publisher, author or publicist. Some books we have purchased with our own money and will be noted as such. Any links to places to purchase books are provided as a convenience, and do not serve as an endorsement by this blog. All reviews are the true and honest opinion of the blogger reviewing the book. The method of acquiring the book does not have a bearing on the content of the review.
Related Posts