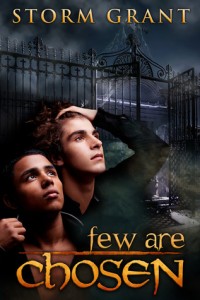 Format Read: ebook provided by the publisher
Number of Pages: 43 pages
Release Date: February 18, 2012
Publisher: Riptide Publishing
Genre: Young Adult M/M Urban Fantasy
Formats Available: ebook
Purchasing Info: Amazon | B&N | Kobo | Author's Website | Publisher's Website
Book Blurb:
Sparks fly between virgin teenage demon hunters when the Chosen One turns out to be the Chosen . . . Two?

Apprentice warrior Blake St. Blake is the Chosen One, raised by an ancient order to defend the world against evil. Well, maybe not the whole world, but at least his neighborhood in downtown Detroit. When a dreaded reflux demon is sighted in a local cemetery, Blake is sent off to his very first battle, armed with his sword, his super-senses, his black leather duster, and a few well-rehearsed one-liners.

But another Chosen One gets in Blake's way—an apprentice wizard named Shadow. While the boys argue about who's the more chosen of the two, the demon escapes.

Blake wants to be angry, but it turns out he and Shadow have a lot in common. Besides, Shadow's pretty cute, and Blake can't help but think that the wizard's skills (and hands and lips and other bits) might make the perfect complement to his. Blake and Shadow are brave enough to challenge the reflux demon in a second battle, but will they have the courage to tell each other how they feel?
My Thoughts:
This was originally posted at Book Lovers Inc.
I read this right after I finished Jim Butcher's latest entry in the Dresden Files, Cold Days. Blake, the apprentice swordsman, goes through the story wearing a black leather duster, because he thinks it's what a cool "Chosen One" should be wearing. This is in spite of the fact that Harry Dresden does NOT fight with a sword, and that it's way too hot in Detroit in the summer (or Harry's Chicago for that matter) for a leather duster to be reasonable fighting gear.
The kid is so self-conscious about the duster. But I was laughing too hard at the demon. Really. Reflux demon! As in acid-reflux? (And yes, it is the acid-reflux demon. Or an acid-reflux demon. And it's meant to be funny.
Poor Blake, he keeps trying to talk like the dialog in the Lord of the Rings movies, which he's seen way too many times.
Then there's the wizard apprentice, Shadow. Who unfortunately only saw the movie about halfway through, and named himself Shadowfax, not realizing that was Gandalf's horse, and not the wizard himself. Oops.
Their relationship almost never recovers from Blake's laughter.
But in between the geeky-nerdy pop-culture references, it's easy to see why these two need each other. Only Blake is under the mistake impression that there's only supposed to be one "Chosen One". Shadow knows there are several. What they both are is orphans, raised by their "orders" to fight evil in the world.
Actually, that does sound kind of like Harry Dresden, doesn't it? The difference is that the orders that found these kids are trying their best by them. And training them with kindness and decency.
Both Shadow and Blake are apprentices. They are also teenage boys. Neither of them wants to admit they need help fighting that reflux demon they aren't actually supposed to fight.
Neither of them wants to admit that they are interested in the other one, period. Or that they don't have a clue how to proceed, either with the demon, or with each other.
Figuring out how to become partners could either be fun, or a complete disaster. Or both.
Verdict: For a short story, there was a terrific amount of story packed in. The set up of the apprenticeships, the orders, the demon, how the boys got recruited, everything was all laid out quickly and surprisingly thoroughly.
I thought the author did a great job with the mentors understanding the psychology of the young men needing to get to the next step of their journey as "Chosen Ones", and figuring out a way to move them forward without pushing them. Or by pushing them the opposite of the way they wanted, knowing it would make them go the way they really wanted.
All of the urban fantasy and pop culture references were fun, and funny. Harry's duster, the Star Wars lightsaber, and Shadowfax. The story was a smile a minute.
The love story part of it was sweet. These two are both virgin heroes, so this was a beginning discovery, and the scene was just right. The comment about tighty-whiteys not being superhero underwear was hilarious!

I happily give Few are Chosen 4 laughing stars.
***FTC Disclaimer: Most books reviewed on this site have been provided free of charge by the publisher, author or publicist. Some books we have purchased with our own money and will be noted as such. Any links to places to purchase books are provided as a convenience, and do not serve as an endorsement by this blog. All reviews are the true and honest opinion of the blogger reviewing the book. The method of acquiring the book does not have a bearing on the content of the review.