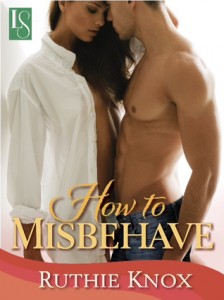 Format Read: ebook provided by NetGalley
Number of Pages: 96 pages
Release Date: January 28, 2013
Publisher: Random House Loveswept
Series: Camelot #1
Genre: Contemporary Romance
Formats Available: ebook
Purchasing Info: Amazon | B&N | Kobo | Author's Website | Publisher's Website | Goodreads
Book Blurb:
What woman can resist a hot man in a hard hat? Beloved author Ruthie Knox kicks off her new Camelot series with this deliciously sexy original novella, in which a good girl learns how to misbehave . . . with all her heart.

As program director for the Camelot Community Center, Amber Clark knows how to keep her cool. That is, until a sudden tornado warning forces her to take shelter in a darkened basement with a hunk of man whose sex appeal green lights her every fantasy. With a voice that would melt chocolate, he asks her if she is okay. Now she's hot all over and wondering: How does a girl make a move?

Building contractor Tony Mazzara was just looking to escape nature's fury. Instead, he finds himself all tangled up with lovely Amber. Sweet and sexy, she's ready to unleash her wild side. Their mutual desire reaches a fever pitch and creates a storm of its own—unexpected, powerful, and unforgettable. But is it bigger than Tony can handle? Can he let go of painful memories and let the force of this remarkable woman show him a future he never dreamed existed?
My Thoughts:
How to Misbehave is not just the introductory novella in Ruthie Knox' Camelot series, it's also a short, sweet and sexy example of the kind of contemporary romance that Knox has made her own.
It's the love story between two adults, one who did something wrong in his or her past and has been forgiven by everyone except themselves, and one who has spent their whole lives being good, to the point where they've lost track of what they really want. All they know is what everyone else wants isn't satisfying them, and they aren't even pleasing whoever it was they set out to place in the first place.
Someone who needs redemption, and someone whose life is on so tight that it's starting to chafe. But who acts so "good" that they seem almost angelic to the other person. A former bad girl and a much-too-good boy.
Or vice-versa.
Tony Mazzara is the former bad boy in . He used to be really bad. Really irresponsible. But one incident made him change his ways, except that it was too late for a lot of things. Except regrets.
Still, Tony is now the responsible manager of his family's construction business. He takes care of his parents and his brother. He's the boss at the construction sites. He's an adult and not the screw-up he used to be.
All he sees is the man who made one horrific mistake.
Amber Clark, the manager of the Camelot Sports Center, sees the most gorgeous man she's ever laid eyes on. But men like Tony never look at women like her. All they see is a mousy little goodie-two-shoes who fades into the background.
But even though Amber went to Bible College, she's not really that kind of girl. She wants to break out of her shell. With hot Tony, even though everyone says he's trouble.
But after spending her whole life in a shell, she doesn't know how to step out of it. Out of people's expectations. Just as Tony doesn't know how to step away from his guilt.
Until the tornado traps them alone together in the basement of the sports center during a power outage. In the dark, they reveal their fears to each other. In the dark, they show who they really are.
And they each discover that without sight, they can see more, and be more, than they could in the light. But what they risked in the dark, they also have to risk when all the lights are on.
It turns out that the dark was a lot less frightening.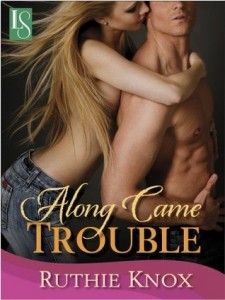 Verdict: I wish there had been a bit more story. This is too short! It's a terrific introduction to the Camelot series (I've already started book 2, Along Came Trouble) but there definitely could have been more misbehavior.
How did Amber get to be so fixated on being "good"? Considering her relationship with her mother in this story, there's some background here I'd love to have. We see more of Tony's backstory, but I want to know about Amber.
How to Misbehave is a great example of a sex into love story. If that's one of the flavors of your cup of tea, you won't be disappointed.
Even though it was too short for complete satisfaction, this introductory novella for Camelot was great. I do wish I knew where in Ohio Camelot is. The town sounds so terrific, I want to visit.

I give How to Misbehave 4 short stars. They would be taller stars, and there would be more of them, if the misbehavior (and the story) had gone on a bit longer!
***FTC Disclaimer: Most books reviewed on this site have been provided free of charge by the publisher, author or publicist. Some books we have purchased with our own money and will be noted as such. Any links to places to purchase books are provided as a convenience, and do not serve as an endorsement by this blog. All reviews are the true and honest opinion of the blogger reviewing the book. The method of acquiring the book does not have a bearing on the content of the review.
Related Posts