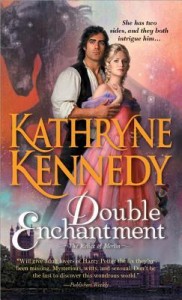 Format Read: ebook provided by NetGalley
Number of Pages: 352 pages
Release Date: March 5, 2013 (paperback originally published August 26, 2008)
Publisher: Sourcebooks Casablanca
Series: Relics of Merlin #2
Genre: Fantasy Romance
Formats Available: ebook, Mass Market Paperback
Purchasing Info: Amazon | B&N | Kobo | Book Depository US | Book Depository (UK) | Author's Website | Publisher's Website | Goodreads
Book Blurb:
Too Much of a Very Good Thing…

High society enjoys their power based on their rank, but Lady Jasmina Karlyle's magic causes nothing but trouble. Her simple spell has gone horribly wrong, and now she has a twin running around the London social scene wreaking havoc on her reputation. When both she and her twin get intimately involved with gorgeous shape-shifting stallion Sir Sterling Thorn, Jasmina finds herself in the impossible position of being jealous of herself…

Still Isn't Enough…

Sterling is irresistibly drawn to Jasmina. She seems to have two completely different sides to her personality though, and the confusion is driving him mad. Is love just the other side of lust…or is what he has with Jasmina much, much more than that?
My Thoughts: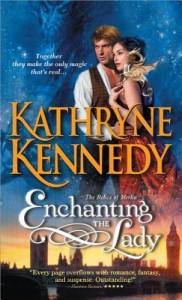 Double Enchantment is the second book in Kathryne Kennedy's Relics of Merlin series, after Enchanting the Lady (reviewed at Reading Reality).
Whether because the second outing didn't mix in quite as many fairy tale tropes, or because we'd already been here once, Double Enchantment definitely was not doubly enchanting. Maybe three-quarters as enchanting.
The Beauty and the Beast story looks like it's going to persist through the whole series. The barons in this alternate Victorian-Era fantasy are all shapeshifters. They really do turn into beasts. Unfortunately, the rest of the peerage seem to have rather beastly manners around them. If handsome is as handsome does, the non-shapeshifters frankly aren't very handsome in this regard. But the Crown Prince finds the shapeshifters invaluable, so watching the nobles lump it can be rather amusing.
The relic in this outing does doppelganger magic. Infinite doppelgangers. And they're real. Royal magic (and shapeshifter magic) can see through illusions, but relic magic creates real things. A doppelganger army bent on rebellion, that's trouble.
But that's not where the story starts. The story starts with a girl, Lady Jasmina. Her mother is a kleptomaniac. And Jasmina has devoted her life to putting back the jewelry her mother steals.
Jaz normally leaves an illusion of herself in bed, while she dresses as a chimney sweep and breaks into people's houses to return her mother's thefts. But her mother stole the relic, and her illusion is a doppelganger that takes on a life of its own. It goes off, gets married, and ruins her reputation!
It marries a shapeshifter. Sir Sterling wants his wife back, and discovers that he might not have one. And he has a mission to hunt down the relic.
Lady Jasmina has a rapidly deteriorating reputation, and memories of performing certain salacious acts with Sir Sterling that no well-bred young lady could possibly have any memory of. Even worse for her, she's scandalously certain she'd like to experience them again. For the first time.
And then there are rumors of disappearing shapeshifters. And an army of rebellion. The relic is still missing. Jasmina is under house arrest. And her mother is still stealing!
Jasmina's world is spinning further and further out of control, and the only solution seems to be to work with Sir Sterling in secret, in the hopes of locating the relic before too much damage is done. Maybe she convince herself that when the relic is found, her life will go back to the way it was before.
She'll be the dutiful daughter again, carefully managing her family's reputation and never having a life of her own. Maybe it's not to late.
Except that the doppelganger she created, the one that is creating a scandal all over London? Those bold actions, those scandalous deeds? Those are all a real part of her. One she's not sure she'll be able to put back.
Verdict: I have mixed feelings about this book. I love this alternate Victorian world. The idea that rank would be chosen by magical ability, and that different powers do different things, this is pretty cool, especially with the Victorian love for frou-frou wrapped around it.
I think the part that made me go a little spare in this story was Jasmina's relationship with her family. Sterling's dysfunctional family made sense (It was nasty, but logical). Her dysfunctional family made none.
Jasmina has been covering up for her mother's kleptomania and incompetence at running the estate since she was old enough to manage. Okay, what happened before Jasmina reached an age of responsibility? And why the hell doesn't her dad know that his wife is looney-toons? I understand keeping it all in the family, but Jasmina wasn't putting mommy's thefts back when she was 4, so who took care of things then? I was half-expecting one of her parents to be part of the evil, just for the nonsensicalness of this behavior.
I'm hope Sourcebooks is planning to re-release book three, Enchanting the Beast, later this year. And there's supposed to be a brand new book four, Everlasting Enchantment in December.

I give Double Enchantment by Kathryne Kennedy 3 and 1/2 semi-enchanted stars.
***FTC Disclaimer: Most books reviewed on this site have been provided free of charge by the publisher, author or publicist. Some books we have purchased with our own money and will be noted as such. Any links to places to purchase books are provided as a convenience, and do not serve as an endorsement by this blog. All reviews are the true and honest opinion of the blogger reviewing the book. The method of acquiring the book does not have a bearing on the content of the review.
Related Posts