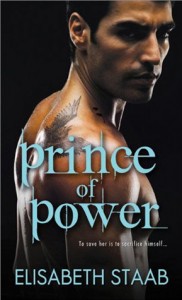 Format Read: ebook provided by NetGalley
Number of Pages: 384 pages
Release Date: January 8, 2013
Publisher: Sourcebooks Casablanca
Series: Chronicles of Yavn #2
Genre: Paranormal Romance
Formats Available: Mass Market Paperback, ebook
Purchasing Info: Amazon | B&N | Kobo | Book Depository US | Book Depository (UK) | Author's Website | Publisher's Website | Goodreads
Book Blurb:
This Fight Is Personal…

Wizards and vampires have been mortal enemies since the beginning. Now Anton, son of the Wizard Master, has one last chance to steal the unique powers of the vampire king's beautiful sister, Tyra…and then kill her. But when he meets Tyra face-to-face, everything changes…

Tyra will stop at nothing to defeat the wizards, until Anton saves her life and she suddenly sees an opportunity she never could have imagined…

As the sparks ignite between them, together they could bring an end to the war that's decimating their people, but only if they can find a way to trust each other…
My Thoughts:
What if Romeo and Juliet had way more serious reasons not to be together than a mere "family feud" but still managed to end in, if not happily ever after, at least, happy for now?
That's somewhat the premise of Elisabeth Staab's Prince of Power, the second book in her Chronicles of Yavn series.
Her Romeo, or rather, the prince on one side of this equation, is the son of the head wizard from King of Darkness. Poor Anton, he should have been born human. Or vampire. Anything but spawn of psychopath.
Anton is a nice wizard, which in Staab's universe is an oxymoron. Dad thinks he's failure, and has him killed. But fate intervenes. Or someone intervenes.
So Anton finds himself a patient at the shelter where Tyra, the sister of King Thad of the vampires (that still sounds funny, really, even if his full name is Thaddeus) works as the center director. Tyra has always believed that she is half-human. And that she was abandoned at the vampire compound by her "mother-the-nutcase".
(Thad's dad the late vampire king did not cheat on his mate, just in case you're wondering about the backstory. Tyra's conception and birth happened a couple of decades before Thad's parents got together.)
Meanwhile, Anton feels compelled to watch over Tyra, even while she's at the shelter. Amnesia nothwithstanding. Even though he doesn't remember who he is. He remembers her. And, he feels better when he's near her.
Tyra knows she should think he's just fixated on her because he's lost. Or something like that. Instead, she is drawn to him. (It doesn't hurt that Anton is handsome as sin).
But when Anton finally regains his memory, they both discover that he is one of her race's worst enemies. Only, she should have felt the evil in his soul. Because wizards always exude an evil aura that vampires can sense.
And Anton simply doesn't have one. Not because he can mask his. Because there isn't one there. He's not evil.
It turns out that he really does love her. Even more once he regains his memory. But her people believe that he must be eliminated. No matter how often he proves that he is willing to fight with the vampires against the wizards.
He's willing to fight to stay with Tyra. No matter what it takes.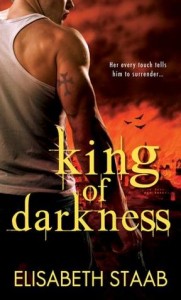 Verdict: I liked Prince of Power even more than I did King of Darkness (see today's review at Reading Reality for details), probably because Prince turned so many tropes on their tropey-dopey little heads.
This definitely is not a fated mate story. It's the furthest thing from it. Anton and Tyra are on opposite sides of a very, very high fence. They shouldn't get together. Ever. In King of Darkness, Anton is supposed to kidnap her and refuses. And gets beaten for that refusal.
Also, of this pair, Tyra is the warrior, Anton is the healer, and they're both okay with that. Being half-vampire, she is always going to be physically stronger than he is. And he's cool with that. He will fight for her, and he will fight for them to stay together, but "fight" has multiple meanings. Most of his fighting is going to be patching people up afterwards.
The deeper story of the vampires and the wizards also gets some exploration. Thad is king because his father was killed by the master wizard. That master also gets killed, by Anton, with some conniving help from his murderous brother. Both forces are now being led by the "new guard".
But there's a reactionary "old guard" waiting in the wings to disrupt things on the vampire side. It wouldn't be a vampire story without vampire politics to mix things up.
And the developing side stories are cooking quite nicely, too. I can't wait for book 3.

I give Prince of Power by Elisabeth Staab 4 and one half stars
***FTC Disclaimer: Most books reviewed on this site have been provided free of charge by the publisher, author or publicist. Some books we have purchased with our own money and will be noted as such. Any links to places to purchase books are provided as a convenience, and do not serve as an endorsement by this blog. All reviews are the true and honest opinion of the blogger reviewing the book. The method of acquiring the book does not have a bearing on the content of the review.