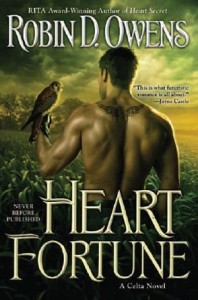 Format read: ebook purchased from Amazon
Series: Celta's Heartmates, #12
Genre: Futuristic Romance, Paranormal Romance, Fantasy Romance
Release Date: Aug. 6, 2013
Number of pages: 384 pages
Publisher: Berkley
Formats available: ebook, paperback
Purchasing Info: Author's website | Goodreads | Amazon | B&N | Kobo | Book Depository US | Book Depository (UK) | Publisher's Website
Jace Bayrum has always been a loner. Concerned more with getting an adrenaline fix and making money to live on his own, Jace cares little for family ties or matters of the heart. On the other hand Glyssa Licorice, Jace's former fling and true mate, is both loving and loyal. She is determined to track down her HeartMate and have him claim her.

After hearing that Jace has been involved in an accident, Glyssa sets out to find him, departing for the excavation site of the lost starship Lugh's Spear. Though her goal is to help Jace and finesse him into recognizing her as his mate, the excavation itself draws her in…

Thrust by fate into working side-by-side, Jace and Glyssa's electric connection from years before sparks once more. She intrigues him, and Jace begins to realize that a HeartMate can make a difference. And one as magnetic as Glyssa could be exactly what he has been searching for…
My Thoughts:
Three things make Robin D. Owens' Celta series compulsively readable for me: 1) she's found a way to make the fated mate trope have romantic tension and make logical sense, 2) the worldbuilding behind Celta is not only multi-layered and totally awesome, but it seems eminently livable, and 3) the fams, the fams, the fams, who rock this particular entry in the series.
The Celta series is a futuristic lost colony series. So they are part of the Pern tradition without the dragon-induced rape. (I'm including that bit for Draconismoi). But what I mean is that the Celtans also escaped Earth because they had a major difference of opinion with the powers that be and decided to go their own way. In the case of Celta, the difference was that all the colonists had some kind of psychic talent.
Why does the fated mate trope work in the Celta series, at least for me? Because even though someone might have a mate, that doesn't mean things automatically work out. And Owens has done stories in the series where people either don't have fated mates, or make real relationships after the fated mate relationship fails. In the case of this particular story, the participants come really close to screwing things up.
In other words, just because they know who their partner is supposed to be, it doesn't mean they are required to accept the partnership. Either or both of them can reject it. The worldbuilding is well-developed here, there are laws in place so that neither one can be forced.
In this story, we see why Jace has some darn good reasons that he doesn't believe in any kind of love. Not between partners, and not between parents and children. No experience whatsoever.
On the other hand, his prospective mate does believe in love, because she's grown up as the child of a HeartMate marriage. One of her best friends found her mate after a very rocky courtship, so she knows that the heartache can bring joy.
Jace has never seen love work, but then he's made sure that he never has to. He's lived his life on the surface of emotions. His own, and other people's. He may be the first person in his family to have enough of the psychic power the Celtans call Flair to experience the power passages that make it possible for him to even have a HeartMate, which is pretty damn ironic.
The story takes place at an archaeological expedition, which is pretty cool. The Celtans have never forgotten where they came from, or how they got there. The dig is at the site of Lugh's Spear, one of the two ships that brought them from Earth to Celta. The site has recently been re-discovered, so there are artifacts to discover and mysteries to solve.
Glyssa, being a librarian (yay!) has come to record the discovery. It's an excuse to be near Jace again, to hopefully get him to acknowledge their bond. That attempt very nearly backfires, but Glyssa's work achieves her final degree of advancement in her profession. Go Glyssa!
The structure of the society of Celta has been built up through many layers of stories. It feels solid. Each new person has a place. They know some people that we've met before, but also introduce us to new ones. I also find it interesting that for a somewhat fantasy-type society, rank has some mutability. Families rise to GrandLord and GreatLord status based on Flair testing. They can also fall based on that testing.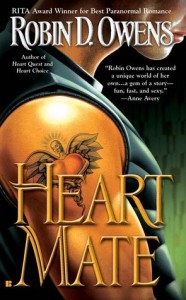 Then there are the fam animals. Fams are companion animals with enough Flair to communicate telepathically with their people. They can be seemingly any species, and all of them seem to have personality to spare, from Zanth the FamCat in the very first book, HeartMate, to Lepid the young and excitable FamFox and Zem the FamHawkcel in Heart Fortune. Lepid and Zem steal the show in this story. At many points they are more likable, and certainly more clear thinking, than their humans.
Verdict: As with many of the Celta stories, there is both a romance and a mystery going on in this book, although the biggest mystery is either whether Jace will get his head out of his ass or whether Glyssa will stop being a doormat and force him to. She can't force him to be her HeartMate, but she can certainly stop letting him have his own way on everything. It takes her a long time before she realizes that standing up for herself is the only way forward for both of them.
Of course, they nearly get killed in the other mystery along the way. And I did not catch who that perp was, but then, I wasn't looking. I was too busy watching the antics of the Fams. Lepid, the very young and very inquisitive FoxFam is probably the cutest character ever, and Zem possibly has the most heart.

I give  Heart Fortune by Robin D. Owens 4 feathered stars (for Zem)!
***FTC Disclaimer: Most books reviewed on this site have been provided free of charge by the publisher, author or publicist. Some books we have purchased with our own money and will be noted as such. Any links to places to purchase books are provided as a convenience, and do not serve as an endorsement by this blog. All reviews are the true and honest opinion of the blogger reviewing the book. The method of acquiring the book does not have a bearing on the content of the review.