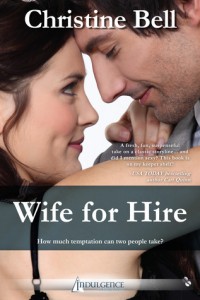 Format Read: ebook provided by the publisher
Number of Pages: 118 pages
Release Date: August 18, 2012
Publisher: Entangled Publishing
Genre: Contemporary Romance
Formats Available: ebook
Purchasing Info: Amazon | B&N | Kobo | Book Depository US | Book Depository (UK) | Author's Website | Publisher's Website | Goodreads
Book Blurb:
He needs a wife for three weeks…

Owen Phipps is out for revenge. His mission? To expose the man who stole his sister's money and dignity. All he needs is a "wife" who can play along. Too bad his last best hope is an actress who tries to mace him with perfume when he offers her the role of a lifetime.

Lindy Knight is a real sap. She loves too hard, feels too deep, and often finds herself saying yes when she should be saying "Let me think about it." She can't believe her good fortune when Owen offers her more than enough money to hold off foreclosure until she can find a job. Three weeks at a resort, money she desperately needs, and she gets to help bring a criminal to justice? Score.

It seems easy enough until the first time a couples bonding game turns intimate, and they realize how dangerous their mutual attraction could be. Can they keep their hands to themselves long enough to find the evidence Owen needs? Or are the close quarters more temptation than they can handle?
My Thoughts:
This was originally posted at Book Lovers Inc.
There's a reason the "pretending to be married" trope is a tried and true. Done right, it can be oh so much fun. The trick, in a contemporary romance, is to find a good enough reason to set up the scenario, and an equally good reason why the two principals can't just jump into bed to cut the sexual tension.
Christine Bell definitely latched onto a winning formula in Wife for Hire. The pretense is reasonable enough, Owen is getting revenge against the swindler who took his younger half-sister for $750,000. Yes, you read that right three-quarters of a million dollars. The problem is that the con artist has set up an expensive "couples marriage saving" retreat. Which means Owen needs a wife, and he hasn't got one.
Oh yeah, and his sister does not want him to do this. She'd much rather lick her wounds in private, thank you very much. So this entire thing is all very much on the QT. Owen needs someone outside his family circle, and away from his business.
Enter Lindy. She's very much an amateur actress. Very much an amateur everything. She needs the money for the job, because she gives everything of herself to everyone she meets. She takes in stray dogs and stray widows. She mentors stray kids. She wears her heart on her sleeve.  Bleeding.
The one thing that Lindy is, is totally genuine, about everything. While she needs the money she'll earn by helping Owen settle the score, she takes the job because she can tell that he needs the help. He needs to fix things for his sister.
And because he's the sexiest man she's ever seen in her kitchen. Or anywhere. They are only pretending to be married when other people can see them. Not in private.
Because Lindy believes in love. And Owen doesn't. Which doesn't stop him from wanting, not just Lindy's body, but also the warmth she brings to every room, and the way her smile lights up the heart he's always sworn he doesn't have.
Verdict: Wife for Hire is just plain fun. If you're looking for a sweet, sexy story that will make you smile and laugh, and sigh over the happy ending, this is a terrific one. Owen and Lindy seem like opposites on the surface, the hard-nosed business tycoon and the bleeding heart, but underneath they are both lonely people who have found different methods to keep that loneliness at bay.
The reason that Owen initially hires Lindy involves some suspense that wraps very nicely around the romance, and gets resolved quite satisfactorily as well.

I give Wife for Hire 4 1/2 stars.
***FTC Disclaimer: Most books reviewed on this site have been provided free of charge by the publisher, author or publicist. Some books we have purchased with our own money and will be noted as such. Any links to places to purchase books are provided as a convenience, and do not serve as an endorsement by this blog. All reviews are the true and honest opinion of the blogger reviewing the book. The method of acquiring the book does not have a bearing on the content of the review.
Related Posts