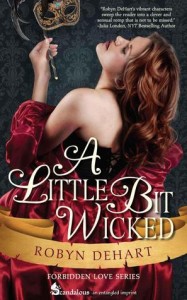 Format Read: ebook provided by NetGalley
Number of Pages: 229 paged
Release Date: December 2, 2012
Publisher: Entangled Publishing
Series: Forbidden Love #1
Genre: Historical Romance, Holiday Romance
Formats Available: ebook
Purchasing Info: Amazon | B&N | Kobo | Author's Website | Publisher's Website | Goodreads

Book Blurb:
Marcus Kincaid has returned to England after a ten-year absence. His older brother died during that time, making Marcus the Earl of Ashford. Not only that, his younger sister is embroiled in a potential scandal that could ruin her chance at marriage. His aunt has already called in reinforcements—The Paragon.

Vivian March is known simply as The Paragon. She moves through every circle within Society, smoothing out scandals and stopping gossip in its tracks. Everyone in London knows that if she aligns herself with you, Society will forgive you your sins. What they don't know is that she uses their secrets to cover her own jaded past.

But with every kiss and every touch that Marcus thrusts upon her, Vivian comes to believe life is infinitely more fun when you can be just a little bit wicked…
My Thoughts:
I couldn't finish this one. It's not even that long,  but I still couldn't do it. At the 60% mark I just couldn't take it anymore.
The heroine, Vivian March, is 34 by the time of the story, and she keeps going on and on (and on) that she must be wearing a "Scarlet W" or the equivalent. That every man who sees her must somehow be able to sense that she is secretly a "wanton woman".
In spite of the fact that for the past decade she has made her living as "The Paragon"–the woman who sweeps everyone else's scandals under the carpet. And that no man has even bothered to do more than mildly flirt with her in ages.
Her breakdown in mental acuity is all because Marcus Kincaid is back in town, and he not only knows that she isn't the paragon of virtue society believes she is, but he is determined to prove it to her at every available private opportunity.
One evening, long ago, Vivian kissed Marcus passionately, believing that he was the man she was betrothed to. The man she had already compromised herself with. That's the problem with masked assignations, you often don't realize your catastrophic mistakes until it is far too late.
Her supposed betrothed left for the continent that evening, and Vivian was lucky–she was not pregnant. She hasn't seen him since, but she is just sure he'll be back some day to ruin her reputation.
She hadn't seen Marcus since that night either. He left to travel the world as a leader for an adventure exploration company, but now he's back. His brother has died, and now, instead of being the spare, he's the Earl.
He's never forgotten that kiss. But when the scandal that his younger sister has created requires the services of "The Paragon", he's astonished to discover that it is the woman who stole his senses for one all too brief moment so long ago.
Marcus is determined to re-experience that moment, and make sure it lasts, this time. Maybe forever.
Verdict: DNF As I said at the beginning, I gave up.  This is the first time I've  just given up on a book I'm supposed to review, but I just couldn't stand Vivian's dithering another page.  She is supposed to be 34, not 17.
The concept of this story was good. I liked the idea of a scandal-sweeper. It may or may not have been historically accurate, but it made for an interesting premise. And Marcus' background was fascinating. That a man who was intended to be the spare and not the heir would be leading adventure tours had to come home and suddenly be the Earl, made him a very different hero. He didn't want the title. He loved the travel and the adventure and being away from society. But he knew his duty and loved his sister and knew what was required. Even if it hurt him quite a bit to give up a life he really loved.
It was obvious that Vivian's old flame was going to come back and attempt to ruin things. The cat-and-mouse game he was playing started too soon and dragged out far too long. It got boring and so did Vivian's melodramatic reaction to it.
But what killed it for me was that I didn't sympathize with Vivian. At 34, she should have known her own mind. Or body. She was experienced. Not just sexually, although not much at that. The villain was clearly not very good at it. But Vivian was very experienced in the way society worked. She'd built her reputation for over a decade, and he was a nobody. Gone to the continent. She should have been able to outface him easily. Or simply blackmail her former clients into submission, because the secrets she knew were truly damning, and she had actual proof.
On the other hand, blaming her behavior with Marcus on a spell or mind-control, then thinking that everyone could see her secret wanton-ness, she just got ridiculous. She was not just an adult, but a woman of 34. She should have acted like one. Not a simpering chit fresh from the schoolroom.

The Grinch gives A Little Bit Wicked 1/2 star for the Epic Fail.
***FTC Disclaimer: Most books reviewed on this site have been provided free of charge by the publisher, author or publicist. Some books we have purchased with our own money and will be noted as such. Any links to places to purchase books are provided as a convenience, and do not serve as an endorsement by this blog. All reviews are the true and honest opinion of the blogger reviewing the book. The method of acquiring the book does not have a bearing on the content of the review.
Related Posts