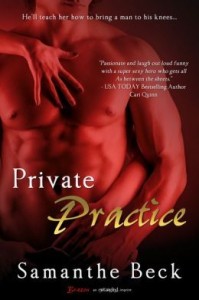 Format read: ebook provided by the publisher
Genre: Contemporary Romance, Erotic Romance
Release Date: Feb. 28, 2013
Number of pages: 263 pages
Publisher: Entangled Publishing
Formats available: ebook
Purchasing Info: Author's Website | Publisher's Website | Amazon | B&N | Kobo
He'll teach her how to bring a man to his knees…

Dr. Ellie Swan has a plan: open her practice in tiny Bluelick, Kentucky, so she can keep an eye on her diabetic father, and make hometown golden-boy Roger Reynolds fall in love with her. But Ellie has a problem. Roger seeks a skilled, sexually adventurous partner, and bookish Ellie doesn't qualify.

Tyler Longfoot only cares about three things: shaking his bad boy image, qualifying for the loan his company needs to rehab a piece of Bluelick's history, and convincing Ellie to keep quiet about the "incident" that lands him on her doorstep at two a.m. with a bullet in his behind.

The adorable Dr. Swan drives a mean bargain, though. If sex-on-a-stick Tyler will teach Ellie how to bring a man to his knees, she'll forget about the bullet. Armed with The Wild Woman's Guide to Sex and Tyler's lessons, Ellie is confident she can become what Roger needs…if she doesn't fall for Tyler first.
My Thoughts:
Dr. Ellie Swan comes home to her small town of Bluelick, Kentucky to open a private practice, finally reconcile with her neglectful, diabetic and alcoholic father and marry the man of her high-school dreams who just so happens to also be a lawyer.
This should be saccharine-sweet, and possibly also a contemporary Cinderella story–or a grown-up version of one of those "After School Specials" that used to run on TV. Except that Ellie Swan's rose-colored glasses' version of why she came home to Bluelick isn't quite working out the way she planned.
Her high-school dreamboat has been freed from his ten-year engagement, supposedly because he's interested in much kinkier sexcapades than his high-school sweetheart. That should have been a big clue for the romantically clueless Ellie but book-smart Ellie.
Instead, she tries to turn herself into a sexual adventuress by blackmailing the town bad boy into providing her with "no strings attached" sex lessons after he shows up at her house in the middle of the night with a buckshot wound in his very-nicely sculpted butt.
The ladies of Bluelick don't call Tyler Longfoot "Tyler Footlong" without good reason. But that's not all he's good for. Ellie just turns out to be the first woman Tyler's ever been with who makes him resent that it's all that women think he ever might be good for.
Tyler should be thinking that a few weeks of "just great sex" with a beautiful woman is a terrific idea. Instead, the more time he spends with Ellie, the more he realizes that he finally wants more than just a good time.
Verdict: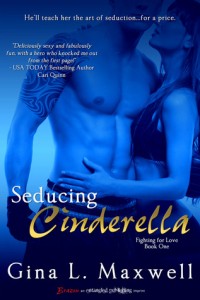 My first thought was that I'd read this story before. The whole "sex lessons story" plot is very similar to Gina L. Maxwell's recent Seducing Cinderella (see the BLI dual review for deets), except that in Maxwell's story, it's not the heroine who is the doctor, it's the guy she thinks she wants. But still, there are a LOT of parallels.
I liked both Ellie and Tyler. He's a genuinely nice guy, which is kind of a surprise considering the reputation he has as the town's bad boy. He's even a responsible business owner.
Even the side-characters in this one have some interesting moments, especially Melinda, the ex-fiancee of Ellie's dream guy. In a fun twist, Melinda becomes Ellie's office manager and best friend.
What makes this story work is the changing dynamic between Ellie and Tyler. He figures out that he wants more long before she does, but he continues with her bargain that he is giving her "sex lessons" because he knows that's the only way she'll let him stay close.
The added element of Ellie's messed-up relationship with her father, his health crisis at the end and their overdue reconciliation was just too much to throw into a sex-into-lovers romance that didn't need any more plot threads.

I give  Private Practice by Samanthe Beck 3 1/2 stars!
***FTC Disclaimer: Most books reviewed on this site have been provided free of charge by the publisher, author or publicist. Some books we have purchased with our own money and will be noted as such. Any links to places to purchase books are provided as a convenience, and do not serve as an endorsement by this blog. All reviews are the true and honest opinion of the blogger reviewing the book. The method of acquiring the book does not have a bearing on the content of the review.
Related Posts