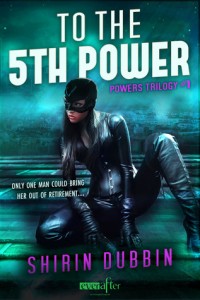 Format read: ebook provided by NetGalley
Series: Powers, #1
Genre: Superhero Romance
Release Date: July 29, 2013
Number of pages: 87 pages
Publisher: Entangled: Ever After
Formats available: ebook
Purchasing Info: Author's Website | Goodreads | Amazon | B&N | Kobo | Publisher's Website
Three years ago, Zola Noite's nemesis killed her sidekick and forced her to watch. The guilt drove her to hang up her cape. Zola knows one thing for certain. She will never be a superhero again.

Psychologist Dr. Arturo "Fort" Forte specializes in super-powered mental health. He's the only reason Zola can once again call herself sane—although, truth be told, the heat between them is slowly driving her back to mad.

When three mega-villains escape the prison Fort oversees, all Zola's best laid plans go up in flames. Fort asks her for help, and she can't turn down the man she's secretly come to love. As battles ensue and clues add up, the one thing Zola trusts is called into question: Fort's true agenda and which side he's on.
My Thoughts:
I'm not too sure about the costume, or her pose on the cover, but I really liked the story. Then again, I love a good superhero romance. Actually, I kind of enjoy a good supervillain romance too, but that's not what this is.
One of the neat things about the worldbuilding in this one is that everyone knows that there are both superheroes and supervillains in the world. Some of the heroes hide their secret identity, and some don't, but the general populace knows that big evil is out there, and that there are people who protect them.
Batman wouldn't get arrested for protecting the Gotham City from the Joker in this universe. It would be his choice if he hid behind Bruce Wayne, or not.
Zola Noite, the heroine of this story, is a bit like Batman. Her power as The Watcher is in her ability to assess and strategize. It's not that she's not strong, but she out-thinks her opponents long before she comes to fight them.
At least she used to. The story is that she's an ex-superhero, or she's trying to be. It seems to be a gig that you can't really retire from. Three years ago a supervillain named Charlatan forced her to watch as he killed her sidekick. After years of therapy, Zola is still only partially functional.
And she's fallen in serious lust with her gorgeous psychiatrist, Dr. Forté, otherwise known as Fort.
However cured Zola is, it has to be enough. Three of her enemies have banded together and broken out of the superhero psychiatric institute and are coming after her. They've made it their personal, pet, mega-villain project to make her relive every failure in her life, just so they can break her down and take her out.
Even if they have to destroy the city to do it.
Fort needs Zola to get better, because he's been in love with his patient since the first time they met. But he can't step over that professional line until she's out of his care. So he's hoping that a lot of tough love will put The Watcher back together.
No matter how many rules he had to break to make it happen.
Verdict: Check your logic at the door and hang onto your seat. To the Fifth Power is one hell of a fun ride.
Zola and Fort have sizzling hot chemistry from the very beginning, the BAM! and POW! come from watching them negotiate how they're going to have a relationship when the power situation starts out unequal, not because she's a superhero but because he's her shrink and knows way too much, where he's been the king of secrets. There's sexual attraction but not a lot of trust. It takes a chunk of story before they negotiate that minefield, and it should. Then ZOWEE!
The reader can guess how the supervillains got loose, but it took awhile for me to figure out who they were. I'll admit that it was a cool idea.
I loved the concept of the Society of Superheroes. They were all really tight, and they seemed like the best of friends. An awesome case of the "family you make" as opposed to the "family you're born to" who in Zola's backstory sucked major rocks. The S.O.S. were her brothers and sisters.
I also adored her best friend Keiki. The concept that there were "meta-naturals"–people who had an extra something but were not at the level of the supers–helped make things make sense, too.
Read this one for the pure fun of it.

I give  To the Fifth Power by Shirin Dubbin 4 purple stars! (read the story and you'll understand)
***FTC Disclaimer: Most books reviewed on this site have been provided free of charge by the publisher, author or publicist. Some books we have purchased with our own money and will be noted as such. Any links to places to purchase books are provided as a convenience, and do not serve as an endorsement by this blog. All reviews are the true and honest opinion of the blogger reviewing the book. The method of acquiring the book does not have a bearing on the content of the review.
Related Posts