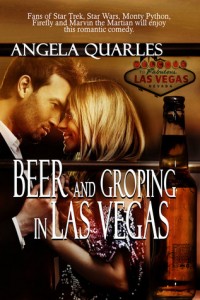 Format read: ebook provided by the author
Genre: Contemporary Romance
Release Date: Dec. 19, 2012
Number of pages: 52 pages
Publisher: Secret Cravings Publishing
Formats available: ebook
Purchasing Info: Author's website | Goodreads | Amazon | B&N | Kobo
Can a djinn and a magic slot machine bring two geeks together?

Riley McGregor is a geek trapped in a Good Ole Boy body and as owner of a microbrewery, smart chicks never look at him twice.

Rejected by a geek who wanted to "trade up," Mirjam Linna would rather immerse herself in work than be the girlfriend-of-the-moment. Stranded in a Vegas hotel, she accidentally makes a wish—a night of hot sex with the man of her dreams. It's granted. She agrees to dinner, but afterward, she'll say thanks, but no thanks, and see what's on the SyFy channel. But when they meet, they're surprised to find they had a shared connection in their past. Sparks fly as these two learn to be in the moment, be themselves and find love.

Fans of Star Trek, Star Wars, Monty Python, Firefly and Marvin the Martian will enjoy this romantic comedy.
Our Thoughts:
Cass: (Pre-Read Impressions) They DARE invoke Firefly?! Ballsy. Taking Firefly's name in vain can lead to hordes of angry Browncoats. The devastation would be unspeakable.
Marlene: Unfortunately, most of us geeks know that Syfy doesn't broadcast much real Sci-Fi any more. Which should have clued me in that this wasn't going to be quite what I thought it was.
Jackie: I was afraid that my lack of recent exposure to anything scifi, particularly all things Firefly, would leave me at a disadvantage but I think this would have been better categorized as "pop culturally aware" as opposed to geekish/ scifi content.  Monty Python and Marvin the Martian are not hardcore scifi, right girls?
Cass: Seriously. I call bullshit on her Geek Cred. Saying this is for "fans" is like saying the Kate Daniels is for goths. You know, because Julie is going through a goth phase. As evidenced by a couple casual references to her room.
Marlene: Based on the description in Goodreads, I was expecting geek romance. What I got was a lot more like something that should have been published through Decadent Publishing's 1Night Stand series, with a lesser djinn standing in for Madame Eve. Emphasis on lesser.
Jackie: Call me crazy, but I was thinking it might resemble Fear and Loathing in Las Vegas by Hunter S. Thompson…then again, if it did I wouldn't know cause I haven't read it yet, but I thought this might have given me a taste at least. I'm almost positive there aren't any genies/djinn in Thompson's stuff, although he may have hallucinated them over the years. If that's what the author was going for at all, it was subtle and clever.
Cass: I didn't get any Geek from this story. Or nerd. Or comprehension of the English language.
The author opens with a reference to all the "trademarks" used in her book. What kind of lunatic would encourage someone to trademark fandom? You want fans to be obsessed with your copyrighted material so they spend all their money on it. Not restrict their ability to do so.
What kind of author wouldn't be intimately familiar with copyright and how it works? She's either a moron, or using the list as an affectation of Geekdom. Somebody is in serious need of Geek Therapy:
Marlene: Instead of "talk dirty to me" the subtitle of this one should have been "talk nerdy to me", except wait, that title is already taken! A lot of geeky in-jokes substitute for foreplay. And I'll never think of Marvin the Martian quite the same way again.
Jackie: I'm sure I missed a bunch of the references, but I did get the one about the red shirts and the away mission. *Jackie pats herself on the back*
Cass: I was just so wrapped up in all the intrigue surrounding the bed sheets. Clearly a crucial aspect of a 40 page short.
How do you expect me to believe these two had amazing sex if you don't specify whether or not the sheets were organic 1500 thread count Egyptian cotton? Might as well have just stuck with missionary position. These kinds of issues can make or break the masturbatory potential of your sex scenes. People can only take their suspension of disbelief so far. Vegas genie? No problem. Sexytimes on generic sheets? Blasphemy!
Marlene: Underneath a story that provides endless possibilities for snarky humor, there is a lot of geeky inside snarky humor. There's also a bit of wish-fulfillment, which is where the djinn rather improbably steps in, rather like the naughtier cousin of the guardian angel in It's a Wonderful Life.
Cass: Wish fulfillment? Have you broken open the WorldCon libations a bit early?
This whole scenario is creepy as fuck. As soon as Mirjam found out her "bartender" wasn't actually an employee of the casino, she should have been screaming "What the fuck did that psycho put in my drink?!" and running to get a medical exam. Not mindlessly obeying the instructions of a complete stranger who knew everything about her (down to her bra size), broke into her hotel room, and ordered her to strip after dragging her out of the very safe public area she was standing in.
Riley had it right when he opened with "How the fuck…". Because that is the only acceptable response to this kind of situation.
I propose a title change to "Roofies and Stalking in Las Vegas."
Mirjam's willingness to just roll with this increasingly bizarre, and totally unsafe, series of instructions puts her in the TSTL category. I'm stunned she didn't compare herself to Sookie Stackhouse. They have similar senses of self-preservation. (i.e. none).
Jackie: No, I wouldn't be following any instructions that popped out of a slot machine unless I had someone to watch my back but it is fiction, so we are supposed to suspend reality for a bit anyway. Readers should just be aware of the whole "don't try this at home" rule.
Marlene: The second-chance at love angle is supposed to help the readers get over the very fast "insta-love" aspects of the story. Insta-lust is totally believable, insta-love, not so much. These are two workaholics who have both been going through a seriously long dry-spell, so insta-lust, absolutely.
Cass: I'll give credit where credit is due. They had safe sex. And there was unambiguous consent. Even if they didn't consider the very real possibility that their sex-shack was set up with spy holes and hidden cameras in addition to the candles and fancy sheets. Hope you enjoy your futures as online porn stars! Not everything that happens in Vegas stays in Vegas.
Jackie: I'm not sure that they were both on the same page when it came to the whole 'high school residual feelings' thing but it did speed up the story appropriately for a short. It took me a while after finishing to figure how Marvin ended up where he did, but at least Riley was consistent in his enthusiasm for "the one that got away."
Verdict:
Marlene: I picked this up hoping for more of a sci-fi-con-romance type story (based on the description) in anticipation of WorldCon. In that sense, it was disappointing. The story is an erotic romance where it just-so-happens that the participants are both geeks. Their geekiness is what they have in common.
On the other hand, it was a moderately fun and occasionally hot story to read over my lunch, providing that one is willing to suspend some disbelief about going along with the djinn and the slot machine. But I wouldn't call it romance as much as light PWP (that's porn-without-plot). I will say that having the acid test for whether or not someone is a potentially geeky enough long-term partner be their reaction to one's Serenity tattoo made a weird kind of sense (says the woman with both TARDIS and Star Trek earrings)
However, the title is awful and doesn't describe the book very well. It makes it sound like an orgy at a frat party. Or worse.
I give Beer and Groping in Las Vegas by Angela Quarles 3 pink stars

Cass: I slammed my computer shut in disgust and walked away at least four times. Because what.the.fuck.
I give Roofies and Stalking in Las Vegas 1/2 star. The half star I contemplated adding for the unambiguous consent was taken away by the sheer absurdity that so-called geeks would be in the same hotel as a big Con and not even contemplate going.

Jackie: I kind of agree with Marlene about the title but from another viewpoint: when the beer bottle showed up on the balcony, I thought things were going to go to a weird place for a minute. Thankfully, they didn't. I enjoyed this quick read and feel it offers a bit of steamy fun with a smidge of hope for us geeks out there still looking love. I give Beer and Groping in Las Vegas 3 thrusts…I mean stars! (Seriously, though, I'm pretty sure their first time was that quick, no?)

***FTC Disclaimer: Most books reviewed on this site have been provided free of charge by the publisher, author or publicist. Some books we have purchased with our own money and will be noted as such. Any links to places to purchase books are provided as a convenience, and do not serve as an endorsement by this blog. All reviews are the true and honest opinion of the blogger reviewing the book. The method of acquiring the book does not have a bearing on the content of the review.
Related Posts