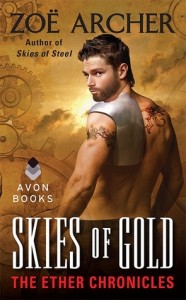 Format read: ebook provided by Edelweiss
Series: The Ether Chronicles, #5
Genre: Steampunk Romance
Release Date: August 6, 2013
Number of pages: 352 pages
Publisher: Avon Impulse
Formats available: ebook, mass market paperback
Purchasing Info: Author's Website | Goodreads | Amazon | B&N | Kobo | Book Depository US | Book Depository (UK)
Two Lonely Hearts . . .

Kalindi MacNeil survived the devastating enemy airship attack that obliterated Liverpool, but even her engineering skills can't seem to repair her broken heart. Seeking to put her life back together, Kali retreats to a desolate, deserted island—only to discover she's not alone. Captain Fletcher Adams, an elite man/machine hybrid, a Man O' War, crashed his battle-damaged airship into the island after the destruction of Liverpool, never expecting to survive the wreck. But survive he did.

One Desire . . .

Believing he is nothing but a living weapon, Fletcher is wary of his newfound companion—a pretty, damaged, but determined young woman. Together they are stranded on the island, and it is only a matter of time until desire gets the best of them both. Soon Kali and Fletcher each find that they may be just what the other needed. But a danger from beyond the island puts them to the test. Will it rip them apart or bond their hearts forever?
My Thoughts:
I just discovered that this is the last book in Archer and Rossi's Ether Chronicles and I am completely bummed. Call me a very sad panda.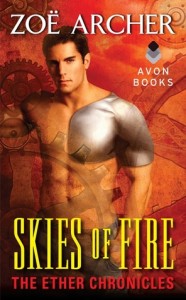 Even though this is the final book in the Ether Chronicles, a reader could start with this one, and then decide that they loved the worldbuilding so much that they wanted to start at the very beginning, Skies of Fire (reviewed at Reading Reality). Yes, I know, I'm fangirling a bit now. Sue me. (Please, don't.)
The series is alternate history steampunk world war, with Britain and the U.S. fighting against the Hapsburgs and the Russians in a Victorian era with aether-powered airships. What makes the series fascinating is that they really do show the world-spanning scope of the war, so the books are not just set in England, but also in America and even North Africa.
And, the discovery of a metal called telumium (yes, I know, it's this world's version of unobtanium, but it makes things fun) has created a fantastic steampunk version of the bionic man; Man-O-Wars. They are a combination of airship captain and airship centaur, without the body-blending. Well sort/kinda. Read and find out for yourself.
Skies of Gold has a bit of the Tarzan/Jane myth, only if both Tarzan and Jane remember their "civilized" roots and want to escape from them. Also if Jane is a female MacGyver. (I started to say a prettier MacGyver, but that depends on the eye of the beholder, and, well, nevermind.)
In this case, Tarzan and Jane, make that Fletcher and Kali, both have terrible cases of survivor's guilt, and in a grand case of coincidence, (there are no such things as coincidences, of course) from the same battle. She was severely wounded when the enemy bombed Liverpool, and his ship crashed after routing the enemy from their bombing of Liverpool.
They've also both survived heartbreak when their former lovers couldn't see past the changes that war had made in their outward appearance. Beauty really is in the eye of the beholder. They find themselves, and each other, on a remote Scottish island where they each planned to be alone.
When they are discovered by an enemy, they have to return to the world they both left behind in order to save an unsuspecting friend from a trap. They've already saved each other.
Verdict: This series is a treat for those of us who love steampunk romance. I'm very glad that if the Ether Chronicles had to end, they finished with a full-length novel, and one as good as Skies of Gold.
Kali and Fletcher are interesting people, and are different types of main characters. Not just because they both have survivor's guilt, but also because neither of them quite fits their stereotypes. Fletcher isn't completely alpha, and Kali is both disabled and a minority in addition to being a professional woman. She's on the island to be independent, and he's there to be dead. They both have PTSD and they pull each other out of it.
The relationship they develop builds slowly and carefully, and that's the way it should be. There's nothing instantaneous here except wariness.
The villain arrives as a bit of demon ex machina at the end, but I was having way too much fun to care. He served his purpose as a means of bringing the story to its (and his) ending.
I'm just damned sorry the ride is over.

I give  Skies of Gold by Zoë Archer 4 ½ aether-powered stars!
***FTC Disclaimer: Most books reviewed on this site have been provided free of charge by the publisher, author or publicist. Some books we have purchased with our own money and will be noted as such. Any links to places to purchase books are provided as a convenience, and do not serve as an endorsement by this blog. All reviews are the true and honest opinion of the blogger reviewing the book. The method of acquiring the book does not have a bearing on the content of the review.