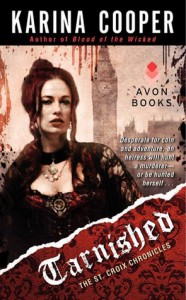 Format read: ebook provided by Edelweiss
Series: The St. Croix Chronicles, #1
Genre: Steampunk, Urban Fantasy
Release Date: June 26, 2012
Number of pages: 384 pages
Publisher: Avon
Formats available: ebook, paperback, mass market paperback
Purchasing Info: Author's Website | Goodreads | Amazon | B&N | Kobo | Book Depository US | Book Depository (UK) | Publisher's Website
My name is Cherry St. Croix. Society would claim that I am a well-heeled miss with an unfortunate familial reputation. They've no idea of the truth of it. In my secret world, I hunt down vagrants, thieves . . . and now, a murderer. For a monster stalks London's streets, leaving a trail of mystery and murder below the fog.

Eager for coin to fuel my infatuations, I must decide where my attentions will turn: to my daylight world, where my scientific mind sets me apart from respectable Society, or to the compelling domain of London below. Each has a man who has claimed my time as his—for good or for ill. Though as the corpses pile, and the treacherous waters of Society gossip churn, I am learning that each also has its dangers. One choice will see me cast from polite company . . . the other might just see me dead.
My Thoughts:
Tarnished is an extremely apt title for this book, because Cherry St. Croix is one of the most flawed heroines it will ever be your pleasure to meet. Cherry isn't just flawed, she's just this side of broken.
Just this side, you understand, she isn't quite broken, although she probably should be.
Tarnished is very definitely steampunk, and also steampunk of the dark and gritty persuasion. Cherry's London is not for the faint of heart. Even Cherry requires opium to cope with it.
That's right, our heroine is an opium addict. She's also a bounty hunter. Also an unrepentant liar.
What makes Cherry interesting is that she's an outsider no matter which way she turns, so her perspective is always that of someone with their nose pressed against the glass, peering in at a world they can observe, but never quite be part of.
In London above, she's the daughter of a Mad St. Croix, a scientist who died in an experiment gone wrong. Society is afraid that Cherry might have inherited his madness along with his wealth. What society isn't so certain of is that she was sold to a circus after the accident, and spent years as an acrobat and a thief.
In London below, she's known as Miss Black, the only female "collector" to ply the dangerous trade. She's a bounty hunter who turns in men and women who otherwise refuse to pay their debts to "The Midnight Menagerie", a magical pleasure-palace.
In London above, Jack the Ripper is killing prostitutes, and the newspapers have started an outcry. In London below, someone is killing sweets, the slaves who belong to the Menagerie, and harvesting their organs for a gruesome scientific experiment. Officially, no one cares, but unofficially, Cherry takes the bounty.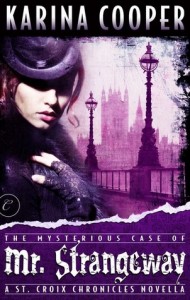 Even more unofficially, Cherry becomes the bounty, and everything she thought she knew turns upside down.
Verdict: The Cherry St. Croix series is definitely for those who like their steampunk on the extra-dark side. I'm saying this because her world is not a nice or light place, especially not London below, and Cherry isn't your typical bluestocking heroine. On the other hand, this particular series isn't reliant on a lot of gears and automatons so far.
Cherry became a collector (see The Mysterious Case of Mr. Strangeway for details) in order to be able to purchase more opium than her guardian would allow. Notice I didn't say purchase it at all, just to purchase more than was acceptable.
In Tarnished, Cherry is on the verge of coming into her inheritance. She is also straddling two worlds, and there is a man with a secret in each world. She can't seem to choose between them. Lord Compton seems to represent the safe, society choice, except that Cherry has seen him entering an opium den. Cage Hawke represents the dangerous choice, as he is the major-domo of the Menagerie. But no one is as they seem, including Cherry.
I found myself wondering exactly who (or possibly what) Cherry's mysterious guardian really was. Cherry doesn't seem to have encountered him in daylight and outside of nightmares. He's going to be important at some point.
Tarnished sets up the series and introduces Cherry's unique voice. There is a case to be solved, a steampunk Jack the Ripper who may be using alchemy, or who may be a scientist, or may be both. He might even be a necromantic version of Dr. Frankenstein, and if that doesn't give you nightmares, then nothing will.

I give  Tarnished by Karina Cooper 4 hazy stars!
***FTC Disclaimer: Most books reviewed on this site have been provided free of charge by the publisher, author or publicist. Some books we have purchased with our own money and will be noted as such. Any links to places to purchase books are provided as a convenience, and do not serve as an endorsement by this blog. All reviews are the true and honest opinion of the blogger reviewing the book. The method of acquiring the book does not have a bearing on the content of the review.