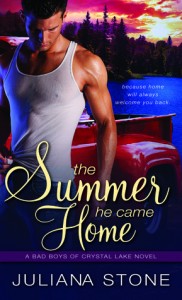 Format read: ebook provided by NetGalley
Series: Bad Boys of Crystal Lake, #1
Genre: Contemporary Romance
Release Date: Apr. 2, 2013
Number of pages: 386 pages
Publisher: Sourcebooks Casablanca
Formats available: ebook, mass market paperback
Purchasing Info: Author's website | Publisher's website | Amazon | B&N | Kobo | Book Depository US | Book Depository (UK)

Sometimes the best place to find love is right back where you started…

Falling asleep in a different bed every night has made it easy for Cain Black to forget his past. It's been ten years since he packed his guitar and left Crystal Lake, Michigan, to chase his dreams. Now tragedy has forced him home again. And though Cain relishes the freedom of the road, one stolen moment with Maggie O'Rourke makes him wonder if he's missing out on something bigger than fame.

For Maggie—single mother and newly settled in Crystal Lake—love is a luxury she just can't afford. Sure, she appreciates the tall, dark and handsome looks of prodigal son Cain Black. But how long can she expect the notorious hellion to stay?

The last thing either of them wants is something complicated. But sometimes love has its own plans.
My Thoughts:
The Summer He Came Home is part small-town romance, part second-chance love story and part, maybe mostly, a story about what happens when bad boys grow up and become men.
They were kings, and they didn't know it, or so says one of the main characters, Raine, Jesse's widow. The story starts with Cain Black's arrival at Jesse's funeral, his first time home after ten years.
Jesse and his twin Jake left Crystal Lake for Afghanistan. Only Jake came back. Mac left his home and his abusive father for a high-flying legal career in in the big city. And Cain left first, because his life was his music, and the only way he could find the fame and fortune he craved was on the road.
Jesse's death found him on tour in Europe. He dropped everything to come back, burned out and almost completely used up. His marriage to a flashy model over in a bitter divorce, and his songwriting partnership finished with an onstage brawl in the middle of concert.
Cain Black arrives in the middle of Jesse's funeral to celebrate his friend's lost life, and finds his own. Cain thinks he's leaving Crystal Lake in just a couple of weeks. Instead he decides that being with his remaining best friends, the men he knows in his heart are still his brothers, is the soul-deep healing that he really needs.
And he's met one woman, one real woman, who isn't interested in him for his music or his money. Maggie O'Rourke doesn't want a bad-boy rocker in her life at all. And she certainly doesn't want him in her son's life. She just wants to keep her head down and scrape by.
Cain is too intrigued to stay away, in spite of his mother's warnings not to hurt the shy young widow.
But he can't get Maggie out of his mind, so he begins a cautious and careful courtship, not just of the beautiful Maggie, but of also of her precocious son, Michael. Cain's deepening involvement brings him back into the life of the town, and back into the lives of the friends who need him.
He just brings Maggie back to life.
Then he discovers the terrible secret that she's been keeping, and he almost loses everyone that is precious to him, just in the moment of discovery.
Verdict: You would think that starting the story with a funeral would be a real downer, but it actually isn't. It turns out to be a terrific device for introducing all the characters, and explaining why Cain left Crystal Lake and his hesitation at coming back. It works.
Cain and Maggie start out from very different places. He's a bit selfish about pursuing Maggie. Maggie has a huge secret that the reader figures out pretty easily. She doesn't want a relationship and is clear about it. Because Cain doesn't know what the secret is, he continues a gentle, non-threatening pursuit until she is willing to let a kind of courtship start. While he's sweet about it on the one hand, there is an element that he isn't clear until the end what he's planning to do when the summer ends and he goes back to the band. Maggie has a child to consider who has become attached to him.
It is obvious to the reader what Maggie's secret is. Her previous relationship was abusive. The only questions are whether the asshat is her husband, ex-husband, or boyfriend, and whether he is in or out of prison. It's all too easy to see that Maggie is afraid of being found.
The development of the relationship between Cain and Maggie, and between Cain and Michael, her son, was slow and sweet, not that there isn't a lot of simmering sexual tension between Cain and Maggie. A lot of this story is about healing, and it takes a while for Maggie to heal enough to let herself have a relationship with Cain.
However, the sudden arrival of Maggie's ex and his capture seemed anti-climactic. There was no suspense, he just knocked on the door and started slapping Maggie around. Then Cain showed up and "boom!" the ex was arrested and locked up.
On the other hand, the friendships between the "bad boys", Cain and Mac and Jake, make a big part of the book. The loss of Jesse is like the ache of a phantom limb, they all feel it. Painfully. I'm looking forward to Mac and Jake each having their own book, because in spite of the sudden ending, I really enjoyed The Summer He Came Home and want to read the rest of the series.

I give The Summer He Came Home by Juliana Stone 4 stars!
***FTC Disclaimer: Most books reviewed on this site have been provided free of charge by the publisher, author or publicist. Some books we have purchased with our own money and will be noted as such. Any links to places to purchase books are provided as a convenience, and do not serve as an endorsement by this blog. All reviews are the true and honest opinion of the blogger reviewing the book. The method of acquiring the book does not have a bearing on the content of the review.
Related Posts