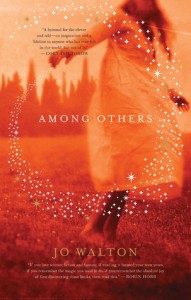 Format Read: ebook borrowed from the Library
Number of Pages: 302 pages
Release Date: January 18, 2011
Publisher: Tor Books
Genre: Fantasy, Science Fiction
Formats Available: Hardcover, Paperback, ebook, audiobook
Purchasing Info: Amazon | B&N | Kobo | Book Depository US | Book Depository (UK) | Author's website | Publisher's website | Goodreads
Book Blurb:
Startling, unusual, and yet irresistably readable, Among Others is at once the compelling story of a young woman struggling to escape a troubled childhood, a brilliant diary of first encounters with the great novels of modern fantasy and SF, and a spellbinding tale of escape from ancient enchantment.

Raised by a half-mad mother who dabbled in magic, Morwenna Phelps found refuge in two worlds. As a child growing up in Wales, she played among the spirits who made their homes in industrial ruins. But her mind found freedom and promise in the science fiction novels that were her closest companions. Then her mother tried to bend the spirits to dark ends, and Mori was forced to confront her in a magical battle that left her crippled–and her twin sister dead.

Fleeing to her father whom she barely knew, Mori was sent to boarding school in England–a place all but devoid of true magic. There, outcast and alone, she tempted fate by doing magic herself, in an attempt to find a circle of like-minded friends. But her magic also drew the attention of her mother, bringing about a reckoning that could no longer be put off…

Combining elements of autobiography with flights of imagination in the manner of novels like Jonathan Lethem's The Fortress of Solitude, this is potentially a breakout book for an author whose genius has already been hailed by peers like Kelly Link, Sarah Weinman, and Ursula K. Le Guin.
My Thoughts:
"If you love books enough, books will love you back."
Having read Jo Walton's Among Others during WorldCon, I can't help but wonder how many of the people around me at the Con have read the book, particularly since it won the Hugo in 2012 (and the Nebula in 2011).
I know that a significant number of that audience share the same feeling as the protagonist of the story, that books, and especially science fiction, saved her sanity if not actually her life. It's part of what brought us all together, after all.
And yes, me too.
The story is that of a girl just falling over the boundary into young womanhood, who lives on the broken borders of too many worlds, and is trying to repair the breakage in all of them. At the beginning, her love of science fiction seems to be the only thing that helps her hold herself together.
Morwenna Phelps is a Welsh girl who is forced to go to an upper-crust English boarding school. She is a twin who is still suffering from the death of her literal other half in an automobile accident that has left her disabled, possibly permanently.
She has lost the only home she has ever known and been forced into the care of a father with whom she has never had any contact. Because her mother is a mad woman that her family refuses to deal with properly.
And/or depending upon one's perspective, because her mother is a dark witch who is trying to capture her and use her to power an evil spell. It was in the thwarting of her mother's earlier attempt that her twin lost her life.
Mori sees fairies and uses magic to counter her mother's witchcraft. Or is it the last vestiges of her childish need to cope with her mother's madness?
Whatever the case may be, Mori copes with everything the universe has thrown at her, including an entire school full of mean girls and a father who frequently forgets that she exists, by escaping into the far flung worlds of science fiction.
It is in the star empires of the grand masters that she finds kindred spirits, not just between the pages of books, but among the other science fiction lovers in the library and the town who meet each week to discuss great, and sometimes not-so-great, lit.
In pursuit of the fictional future, whether hopeful or dystopian, Mori discovers the way to meet her own.
Verdict: Among Others contains elements of autobiography, a mix-in of "contemporary" fantasy, and loads of love for books and libraries.
I put "contemporary" in quotes because the story is set in the late 1970's, due to the autobiographical elements in the story. The author herself grew up in Aberdare, as the heroine did, and was both disabled and sent to an English boarding school, paralleling the character in the story. No twin. (Lovely interview in the Austin Chronicle with more details)
There was a part of me that kept wondering whether Mori's "seeing fairies" and practicing magic was real, or if it was a coping mechanism for everything she was going through. I'm not sure that mattered to my enjoyment of the story, but it niggled at me a bit.
The heart of the story is how Mori keeps herself going through her love of reading science fiction and fantasy. It's not just that she reads, but that we hear what she thinks about what she reads. So there's Mori's thoughts on which writers and books she loved, and disliked, and why, along with what is happening to Mori and what she's doing to counteract the bad crap going on in her daily life.
Fair warning: reading this book is guaranteed to add to your TBR pile. Mori is passionate about the books she loves. Also the ones she hates. But she will convince you to read, or re-read something. Several somethings.
But Among Others is, above all, a passionate reminder that we can, and do, rescue ourselves, if we just keep on doing. With time and a little help from our friends. Not if we keep on trying, but if we keep on doing. Mori and Yoda would have gotten on like a house on fire.

I give Among Others by Jo Walton 4 and ½ twinkling stars.
***FTC Disclaimer: Most books reviewed on this site have been provided free of charge by the publisher, author or publicist. Some books we have purchased with our own money and will be noted as such. Any links to places to purchase books are provided as a convenience, and do not serve as an endorsement by this blog. All reviews are the true and honest opinion of the blogger reviewing the book. The method of acquiring the book does not have a bearing on the content of the review.
Related Posts