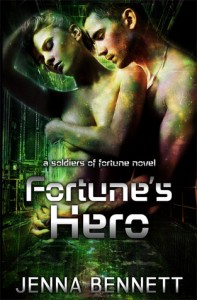 Format Read:ebook provided by the publisher
Number of Pages: 400 Pages
Release Date: November 13, 2012
Publisher: Entangled Publishing
Series: Soldiers of Fortune #1
Genre: Science Fiction Romance
Formats Available: Trade Paperback, ebook
Purchasing Info: Amazon | B&N | Kobo | Book Depository US | Book Depository (UK) | Goodreads | Author's Website | Publisher's Website
Book Blurb:
Quinn Conlan had it all: a fast ship, a great crew, a gorgeous girlfriend, money, and adventure around every bend. That was before he agreed to ferry a shipload of weapons to the besieged planet Marica. Now he's stuck in the prison colony on Marica-3, enduring weekly sessions with the camp's "medical team," and praying for a quick death before he breaks under the torture and spills everything he knows about the Marican resistance.

When opportunity strikes, Quinn takes Elsa, a Rhenian med tech, hostage and heads into the inhospitable interior of the small moon where he formulates a plan for getting his crew out of prison, his ship out of impound, and everyone out of orbit. But when Elsa professes her love, can Quinn take the beautiful doctor at her word, or will trusting her—and his heart—condemn him and his crew to an eternity on Marica-3?
Our Thoughts:

Has: When I first encountered the premise of a Sci Fi prison break typesque romance it was no contest that I would want to pick this book up! Quinn a smuggler, is captured, imprisoned and tortured for information about the rebels he has been helping with supplies. But he has refused to let the Rhenian authorities to break him down or to betray the Marican rebellion. But during a torture session, Quinn manages to escape with a hostage, Elsa who is a Rhenian doctor who has been assisting with his torture although she finds it distasteful. But stranded in a stark and barren planet, along with dangerous creatures and no water and food, strong feelings develop between Quinn and Elsa and despite their differences, they soon begin to trust each other.
I loved the setting, premise and the romance, between Quinn and Elsa. I felt that Jenna Bennett sets things out realistically especially with the initial mistrust and fear between Quinn and Elsa and I liked how she evolved their relationship over the course of the story to that of enemies to lovers. There was a lot of thought into the world-building, and setting and I could envision the desolate prison planet which were vivid and stark. However the pacing, in the story was a huge issue for me. While I was glad there was a lot of time spent in building up the relationship between Elsa and Quinn, I did find that not a lot of conflict or action was able to bring forward the pace, which felt like it was dragging quite slow especially in the beginning. And the romantic/personal issues between Elsa and Quinn was not enough to engage me in the story.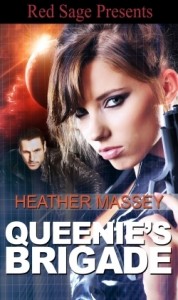 Marlene: While I, too, loved the idea of a Science Fiction Romance prison break (I really, really loved (review at Reading Reality) Heather Massey's Queenie's Brigade, which uses this theme to the max) Fortune's Hero didn't quite move me in the same way.
The prison planet is pretty starkly drawn (the creepy crawlies, ugh!) but what we don't know is why the Maricans are rebelling and what it is about the Rhenian authorities that make the Maricans need to rebel. Yes, the Rhenians have allowed the governors of this prison planet to conduct atrocities, but is the entire Rhenian government atrocious? We want to believe that the Maricans are the plucky "Rebel Alliance" and that the Rhenians are the evil empire, but we don't actually know. We just know the Rhenians have some extremely rotten apples running this prison planet.
Quinn is a mercenary, after all. Not a member of the rebel alliance. They paid him to run guns and supplies. He's not a true believer.
And Elsa started out her posting to the prison believing in the Rhenian cause, whatever that is. She thought that the doctor was serving the right. His torture of his prisoners changes her mind about his methods, but doesn't seem to change her mind about her country, or planet or empire or precisely whatever the Rhenian group is.  Even when she's captured by Quinn, she still believes that Major Lamb is a upstanding Rhenian officer. It's only after some time in Quinn's company that her allegiance changes.
A case could be made that Elsa has Stockholm Syndrome. She's bonded with her captor. An equal case could be made that Quinn has Lima Syndrome. He's bonded with his captive.
Has: I disagree about the lack of explaining why the Rhenian's were so bad and oppressive, because  I got the sense they were pretty domineering in the book although I agree that there should be more about why they wanted to take over Marican system. What made them so special and was it over resources?  But I definitely agree with you about Quinn's reasoning on not betraying the rebels to Doctor Sterling and it didn't ring true on why he would not especially with the extent of torture he went through which was horrific. But I think with Elsa, she wanted to be a doctor and to heal, but her society's structure and ethos seems to be very patriotic and authoritative and in a lot of ways reminded me a bit like Nazi Germany.
I actually felt that their bonding was the strongest element in the book, because while they were hiding outside in the wilds, they were both stripped from what they knew and that helped them to bond with each other. I think those were my favourite scenes in the book, because the romance for me was genuine and real.
I didn't see Elsa being a brainwashed citizen and I think she was a bit of a rebel at heart and being with Quinn helped her to face her feelings. I do think it was idealistic and naive to trust and actually like Sterling, who came across as a cold-blooded sociapath. While with Lamb, I didn't get a great impression for him being a smart leader and was incompetent especially towards the end where I think the escape was too easy to be realistic. But I was glad she never defended them or thought of them as being good men at the end. but I wished there was more time, in her questioning her home-land's beliefs and the damage they have done to other planets and people because it was not realistic.
Marlene: There are definitely hints at the beginning that the Rhenians are supposed to remind us of Nazi Germany, but to me, thats all they are, hints. And all those hints come from Quinn's perspective as the prisoner. I'm not saying he's incorrect, just that he'd be inclined to see things in the worst light possible.
Likewise, Sterling is definitely a sociopath. He clearly loves torturing people. However, except for the staff at the prison, most Rhenians seem to worship Sterling as an inventor of medical miracles. He's a two-faced sociopath, and probably just eats up the worship. The prison seems to be a collection of Rhenian sociopaths, with the exception of Elsa.
I think my point about Quinn was that the rebel cause may not be all that glorious. Quinn needed to be paid to serve that cause. He's holding out from revealing what he knows for a whole lot of reasons. It's part of his own code of honor, and because it's the best way of keeping his team alive. Once he talks, Sterling will have no more use for any of them, and will probably kill them all.
The bond that rises between Elsa and Quinn does make up the lion's share of the story, and it does strip away the masks that both of them, especially Elsa, normally hide behind. However, both the syndromes I mentioned do make the emotions they engender feel real. They need that bond to survive. If there were a second book, I would expect that figuring out if what they discovered between them was real or the heat of the moment would cause some tension, but would stand the test of time.
The romance was well done. It makes the story work. My question is whether it's happy-for-now or happy-ever-after, considering the circumstances where it begins.
I would also wonder if there wasn't a tracker somewhere, because that escape was too easy. If the Rhenians have conquered so much, they can't be that incompetent.
Has:I think Fortune's Hero basically sets up and establishes the characters and the setting and that there will definitely be more to come because there is a bit of a cliffhanger at the end and there are hints of what direction the next book may go into. I think the main issue is that this could have been a tighter book if it was a novella because it was overlong due to the lagging pace and lack of clarification on the agenda the Rhenians have over the Maricans but I suspect we will learn more in the next installment.
I hope the romance and the issues that both Elsa and Quinn have will be further developed in the next book and we get to see more of the wider universe. I did like the general world-building and the tone and feel that Jenna Bennett has created was well done but I agree there were definitely issues with the details and of the main plot and even some aspects of the characterisations.
Marlene: I agree 100%. This would have been a better book if it were shorter. Maybe not novella-length, but definitely cut down. I wanted more explanation of the Rhenian agenda and the Marican rebellion, and less repetition of the prison planet terrain.
The romance was well-developed but this couple is going to have a lot of issues that will need to be resolved in the future. How will a Rhenian "traitor" fit in with a band of mercenaries? Did they get tracked? Was the escape part of a bigger plan?
Verdict: I give Fortune's Hero 2 and a half creepy-crawly stars (read the book to understand)


Has: Whilst I liked the premise, some of the execution was a bit of a let down, especially since it didn't expand on important aspects of the plot and along with the  bogged down pacing the initial promise didn't live to my expectation. The romance was a highlight for me but it wasn't enough to carry the story for me, but I enjoyed Jenna Bennett's voice and I will definitely check out future books of hers but I don't think I will follow the sequel.
Verdict: I give Fortune's Hero two star and half stars (and no creepy crawlies linked to it because I don't like poisonous spiders!)

***FTC Disclaimer: Most books reviewed on this site have been provided free of charge by the publisher, author or publicist. Some books we have purchased with our own money and will be noted as such. Any links to places to purchase books are provided as a convenience, and do not serve as an endorsement by this blog. All reviews are the true and honest opinion of the blogger reviewing the book. The method of acquiring the book does not have a bearing on the content of the review.