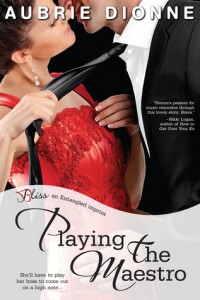 Format Read: ebook provided by NetGalley
Number of Pages: 190 pages
Release Date: February 11, 2013
Publisher: Entangled Publishing
Genre: Contemporary Romance
Formats Available: ebook
Purchasing Info: Amazon | B&N | Kobo | Author's Website | Publisher's Website | Goodreads
Book Blurb:
Melody Mires has sworn off dating musicians, but when the sexy European conductor Wolf Braun takes over her struggling symphony, her hesitation almost flies out the window with the notes of her flute—until he opens his mouth. Wolf is arrogant, haughty, and seems to have a personal vendetta against Melody. Oh, and he's her boss. If she wants to keep her job as principal flutist, she'll have to impress Wolf while simultaneously keeping her undeniable attraction to herself.

Wolf came to America to get as far away from his past as possible, and to recover some of the swagger he had as one of the world's best maestros. He never imagined being forced to reassess the entire orchestra's talent—and potentially fire anyone who doesn't make his cut. Dating the attractive flutist is out of the question, but as their feelings reach a fever pitch, can they risk both their careers for a chance at love?
My Thoughts:
Way back last Fall, The Smutty Lover and I tag-team reviewed Aubrie Dionne's sci-fi romance New Dawn series here at BLI. (If you want to read our rather mixed feelings about each book, click on the title to check out the review: Tundra 37, A Hero Rising, and Haven 6.  To complete the set, I reviewed Paradise 21 over at Reading Reality.)
I wanted to see what Ms. Dionne would do with a contemporary romance, especially since in her real-life, she is a professional flutist, just like her heroine in Playing the Maestro.
Authors are told to "write what they know". The behind the scenes world of a small New England orchestra is probably one that she knows well. Although one does wonder how much of the backbiting skullduggery that goes on in the story is drawn from life.
But humans are the same pretty much everywhere.
When you watch a symphony orchestra play, it looks glamourous. All the musicians dressed in formal black, the orchestra hall is always beautiful, the conductor often in evening dress. The hush that comes over the crowd just before they start to play.
The reality is otherwise. Classical music is not a way to make a comfortable living. The arts seldom are. And that's where this story comes in.
Melody Mires is a professional flute player for a small New England orchestra who barely makes ends wave at each other every month by cobbling together a lot of part-time jobs. She is the first-flutist for the orchestra. She teaches flute. She plays as many concerts, weddings, quartets and anything else she can find. And then there's practice, practice, practice.
What she doesn't have is a life.
She doesn't date musicians, because they all have egos as big as a grand piano. Whether they play the piano or not. The last date she had was with the personnel director of the orchestra, and that looks like her biggest mistake yet.
Into the mess of her life walks the Easthampton Orchestra's new conductor, Wolfgang Braun. He isn't just gorgeous, although that's part of his charm. As conductor, he's her boss. But he's been hired to save the orchestra from financial ruin. Which means that he's there to fire people.
And the one musician that the personnel director wants to make sure gets fired, is the principal flutist. Melody. Because he wants to make sure that his perfect, genius sister gets the job.
Wolf came to America to escape his own past. Too bad for him that his past is barrelling towards him with all the speed and devastating impact of a runaway train.
Verdict: This is a relatively short book to be carrying three fairly complex plot lines. It might have been a better book if it had stuck to two.
The Easthampton Symphony is in financial trouble, and the board hires a big-name conductor from Europe to save it. Enter Wolfgang Braun. Wolf's plans to save the orchestra, and the villain's plans to either thwart him or forward his own underhanded agenda make for one thread of the plot. There's a story there, especially when the love story between Wolf and Melody is added in. Symphonies everywhere are in financial trouble. Money for the arts are drying up, and Wolf's plans to get the children of the town interested in art were cool and fun and provided some of the best scenes in the book.
Wolf's past was a second story. He fled Germany to break things off with an ex-girlfriend who wiped out his finances and still wouldn't take no for an answer. And she's a top model in Europe. He kept the evidence but didn't prosecute. He's got the brass to be a big-deal conductor, but refused to deal with this woman. She caused a big rift between him and his brother. This part of the story didn't work for me.
Melody and Wolf's love story was a bit lukewarm. Not just because the love scenes all "faded to black", but because they were in an untenable professional situation and acted irresponsibly. And Melody was the "good twin" of Wolf's evil ex-girlfriend, which should have been a total turn-off. And I just didn't feel the heat between them. They were nice people, they were just a bit too "nice" to each other.

I give Playing the Maestro by Aubrie Dionne 2 and 1/2 fluting stars.
***FTC Disclaimer: Most books reviewed on this site have been provided free of charge by the publisher, author or publicist. Some books we have purchased with our own money and will be noted as such. Any links to places to purchase books are provided as a convenience, and do not serve as an endorsement by this blog. All reviews are the true and honest opinion of the blogger reviewing the book. The method of acquiring the book does not have a bearing on the content of the review.