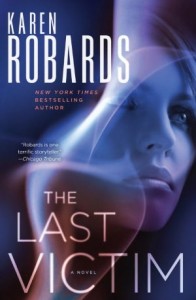 Format Read: e-book provided by NetGalley courtesy of Publisher for Review
Length: 336 Pages
Genre: Paranormal Romantic Thriller
Release Date: August 7, 2012
Publisher: Random House
Formats Available: Hardcover, Nook, Kindle
Purchasing Info: Publisher, Author's Website, Goodreads, Amazon, Barnes & Noble, Books-A-Million, Nook, IndieBound, Kindle
Book Blurb:
Dr. Charlotte Stone sees what others do not.

A sought-after expert in criminal pathology, Charlie regularly sits face-to-face with madmen. Obsessed with learning what makes human monsters commit terrible crimes, Charlie desires little else from life—no doubt because when she was sixteen, she herself survived a serial killer's bloodbath: A man butchered the family of Charlie's best friend, Holly, then left the girl's body on a seaside boardwalk one week later.

Because of the information Charlie gave police, the Boardwalk Killer went underground. She kept to herself her eerie postmortem visions of Holly and her mother. And even years later, knowing her contact with ghosts might undermine her credibility as a psychological expert, Charlie tells no one about the visits she gets from the spirit world.

Now all-too-handsome FBI agent Tony Bartoli is telling Charlie that a teenage girl is missing, her family slaughtered. Bartoli suspects that after fifteen years, the Boardwalk Killer—or a sick copycat with his M.O.—is back. Time is running short for an innocent, kidnapped girl, and Bartoli pleads for Charlie's help.

This is the one case Charlie shouldn't go near. But she also knows that she may be the one person in the world who can stop this vicious killer. For Charlie—whose good looks disguise a world of hurt, vulnerability, and potent psychic gifts—a frantic hunt for a madman soon becomes a complex test of cunning, passions, and secrets. Aiding Dr. Stone on her quest to catch a madman is a ghostly presence with bad intentions: the fiery spirit of seductive bad boy Michael Garland who refuses to be ignored, though in his cat and mouse game they may both lose their hearts.

Dr. Charlotte Stone sees what others do not. And she sees the Boardwalk Killer coming for her.
Our Thoughts:
Marlene: This was…different. And not always in a good way. It's like there were three competing tropes going on. The "I See Dead People" psychic trope, the ghost-romance, the ultimate bad-boy romance, and the catching serial killers angle. Okay, make that four tropes.  There are more, but that's enough to start with.
Lea: I have to agree with Marlene regarding this read being different. As Marlene indicates, there are a number of themes in play up to and including Dr. Charlotte "Charlie" Stone's romantic life….or lack thereof. This is a third person narrative told from Charlie's perspective and I will say I had a good understanding of what was happening with all the characters at any given time. A word of caution, there is a prologue in this book that opens with a grisly murder scene and shows readers the trauma and horror that Charlie witnessed. There are more than one such scene in the story so it is best to caution that The Last Victim is not for the faint of heart.
Marlene: While the idea that Charlie took her teenage trauma and used it to forge a career as a criminal pathologist makes fictional sense, the idea that the FBI would scoop her up and put her back in harm's way with the Boardwalk Killer again didn't. She was the only surviving witness, and serial killers supposedly don't like to leave loose ends.  In spite of her expertise, protective custody would have made way more sense than exposure.
Lea: I didn't have a problem with the FBI approaching Charlie to assist with the investigation given her background and expertise, however there were aspects of the team's management of her safety that did bother me. And, in the same vein, Charlie is a brilliant woman who is intimately aware of the inherent dangers posed by a sociopathic serial killer, she has made these monsters her life's study for goodness sake. Further, this is a woman who has lived like a nomad her entire life, moving from one destination to the next depending where her research takes her. Charlie knows the fact she has never settled anywhere is because she has looked over her shoulder since experiencing that horrible trauma as a teen. There is this prevailing, "he's out there somewhere and could get you at any time" feeling that would cause a lesser person to become a committed agoraphobic but Charlie has channeled her fear in a positive direction, which is good. I did feel sorry for her though, she has no close girlfriends, her life has been devoid of passion, her one goal is to use her expertise to help devise some type of early serial killer detection system. Granted, she reticently steps into the devils sight when the FBI comes to call, but still… I did empathize with her need to do whatever she could to try and save another young girl's life if at all possible. I didn't dislike this heroine, but at times I couldn't help but ask: What the hell is she doing?
Marlene: Lea, you're right. I empathized with Charlie's desire to help, but the management of her safety was lacking, to say the least. There were other ways the FBI could have consulted with Charlie without putting her in front of the press, even inadvertently. The case was so high-profile, the press were going to find out eventually, after all. Speaking of the FBI, Agent Bartoli accepts Charlie's psychic gifts way too easily. On the other hand, Agent Kaminsky is skeptical of Charlie, even as a psychiatrist, to the point of being rude and dismissive. Police departments routinely use psychiatrists or psychologists to profile serial killers, so Kaminsky's hostility went over-the-top to the point of unbelievability. The agent couldn't have gotten as far as she had within the Bureau if she "played" that badly with professionals who would regularly be utilized by her team.
Lea: Bartoli's awareness and acceptance of Charlie's psychic abilities didn't bother me. As for Agent Kaminsky? Yes, she did get on my last nerve at times and I agree with Marlene–her attitude toward Dr. Charlie Stone was unprofessional and degrading. I did enjoy it when Charlie starts giving Kaminsky back some of her own, and Charlie's come-backs are great, she is a psychiatrist after all. I also couldn't buy into Kaminsky's personal issues with, and feelings for, fellow team member Agent Buzz Crane. I don't personally know any FBI Special Agents, but given what I've previously read, these individuals are no nonsense and brooding relationships resulting in sarcasm toward fellow team members would be strictly verboten.
Marlene: And then there's Garland. OMG my eyes started rolling and didn't stop. He may have been killer gorgeous, but he was also in prison as a convicted serial killer who preyed specifically on women. Charlie was righteously afraid of him when he was alive, but she falls in love with him once he's dead and his ghost is "attached" to her? The fact that he's now a ghost and can't harm her is supposed to make her forget the rest of his character? Or are the hints that he drops that maybe he wasn't guilty intended to make the reader believe he isn't as bad as he's painted? He lied to get his victims into his clutches. He could be, most likely is, lying to Charlie. She should know better.
And ghost-sex by astral projection? Give me a break. Please!
Lea: Michael Garland is certainly intriguing and as the plot progressed I couldn't help but feel the author had much more to reveal to readers about this guy–particularly given what happens during the conclusion of the story. As for Charlie's sexual relationship with Garland, yeah, "weird, sister, weird". O_o I felt the astral projection was a contrived device to get the two of them in the sack.
Then there was Charlie's possible, maybe, perhaps, not sure, that was a meh/nice kiss, relationship with Bartoli? THAT I found eye-rollingly painful.
Marlene: All I can say is, poor Bartoli. But you're right, Lea. I can see that the author is planning to reveal more about Garland, but Charlie doesn't know that yet! And even if Garland turns out not to be a villain, or at least not a serial killer, he's still dead. Which should carry its own red-flag warning in the romance department. Except for that astral projection thing. OMG that one still makes my head hurt!
Verdict:
Marlene: In spite of everything, I couldn't turn my reader off. Possibly in the way of watching a train wreck, but just the same, I had to find out how this thing ended. The serial killer does get found, and it both is, and isn't, a copycat. But a love triangle between a criminal psychiatrist, a dead murderer's ghost, and a live FBI agent has nowhere to go but heartache. And Charlie should know better about Garland. (For a more satisfying ghost romance, I liked Stacey Kennedy's Supernaturally Kissed much better (my review here) although the BLI reviewers thought differently. At least the hero is a good guy from the beginning!)
Lea: There were aspects of The Last Victim that I really liked, parts that dragged and finally there was the "OMG this is ridiculous". However, despite the negatives it was compulsively readable, I had to know how Karen Robards was going to solve the case and kept turning the pages to discover what was going to happen next regarding what can only be described as a vicious, heinous killing spree. There are surprising plot twists. This book is the first in a series, I'm still pondering whether I'll read the next one. Call me a masochist but I can't help but want to read the next book to find out more about Michael Garland. LOL

Marlene gives The Last Victim 2.5 Stars

Lea gives The Last Victim a very tepid 3 Stars
***FTC Disclaimer: Most books reviewed on this site have been provided free of charge by the publisher, author or publicist. Some books we have purchased with our own money and will be noted as such. Any links to places to purchase books are provided as a convenience, and do not serve as an endorsement by this blog. All reviews are the true and honest opinion of the blogger reviewing the book. The method of acquiring the book does not have a bearing on the content of the review.
About Marlene:
Marlene is a librarian, ebook advocate, science fiction fan, and RPG fan who lives in the Atlanta suburbs. She and her husband are owned by four cats, just ask them. She's a geek and a nerd and proud of it. She's also an avid reader of everything, including the back of the cereal box, and has been blogging since April 2011 at Reading Reality and is a reviewer at Library Journal as well as active on Goodreads. She is also the publisher of Ebook Review Central.
Related Posts