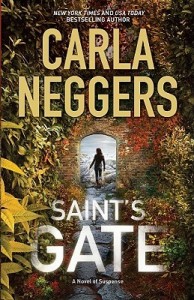 Format read: ebook borrowed from the Library
Series: Sharpe and Donovan, #1
Genre: Romantic Suspense
Release Date: Aug. 23, 2011
Number of pages: 400 pages
Publisher: Harlequin MIRA
Formats available: ebook, hardcover, mass market paperback, audiobook
Purchasing Info: Author's Website | Goodreads | Amazon | B&N | Kobo | Book Depository US | Book Depository (UK)
Two people, isolated by their pasts. An obsessive killer who will force them together. Welcome to Saint's Gate.
Emma Sharpe is summoned to a Maine convent, partly for her FBI art crimes work, partly because of her past with the Order. At issue is a mysterious painting of Irish lore and Viking legends. But when the nun who contacted her is murdered, it seems legend is becoming deadly reality.

Colin Donovan is one of the FBI's most valuable deep-cover agents. Back home in Maine after his latest mission, a contact clues him in to an intrigue of murder, international art heists and long-held secrets that is too tempting to resist. As danger spirals ever closer, Colin is certain of only one thing—Emma Sharpe is at the center of it all.
My Thoughts:
In Saint's Gate, we have the opening of a romantic suspense series where the emphasis is definitely on the suspense rather than the romance. This reader is grateful that the series does not look like it is going to revolve endlessly around the heroine's lame inability to decide between love interests.
Not only is that trope verging on TSTL, but in this case, it would be less sensible than usual, as heroine Emma Sharpe is an FBI agent. It's a job requirement that she be decisive, even in her rather complicated personal life.
The complications in Emma's personal life form the background for this case, and are also the extras that she brings to the table as part of the FBI's High Impact Team (HIT). Emma's family is in the art detection business, and have been for generations. They find lost treasures, they are respected art appraisers. Some might even say the Sharpes are treasure hunters.
But before Emma became an FBI agent, she spent three years of her life as a novice at the convent of the Sisters of the Joyous Heart, a convent devoted to art restoration and teaching art.
The case, and the series, begins when one of the sisters is murdered. The question is why Sister Joan asked Emma to visit. Was there a painting? A problem? Nothing about her request for Emma to visit was within the rules of the Order.
There are too many questions about whether the murder is related to Sister Joan, the convent, a painting, to Emma, an FBI case, or Emma's family connections. There are endless possibilities.
Added to those possibilities is Colin Donovan. Also an FBI agent, and also originally from that same rocky coast of Maine. But unlike Emma, Colin generally works deep undercover. Emma and Colin should not know each other. Initially they don't. Except…Emma's art expertise provided the information that Colin used to put away someone very, very bad. It's just barely possible that this murder has something to do with Colin's case.
Sticking his head up, identifying himself to too many people might expose him too publicly as an FBI agent. Colin Donovan might just have to come in out of the cold. Emma Sharpe might just make it worth Colin's while, if this case doesn't get them both killed.
Verdict: Although Saint's Gate is romantic suspense, it definitely falls more on the suspense side of the equation. Not just because the subtitle "a novel of suspense" is a dead giveaway, but because the point of the story is solving the crime, not the romance. Emma and Colin are meant to be.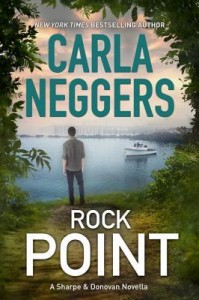 The story does carry the weight of setting up the series, so there is a certain amount of information that needs to get conveyed about both families and the Heron Cove/Rock Point area of Maine. Readers need the stage set. The most fascinating side-character in the story so far is Father Finian Bracken from Ireland. (How he gets to Maine from his native Ireland and meets Colin is told in Rock Point; while it's billed as book #0.5 in the series, it was written between books 2 and 3).
The cool thing about this story is how much everyone's past is influencing the present. Emma's past life as a novice brings her into the case, and her history with the convent influences how she thinks about the people involved. Also her past influences how people think about her. Father Finian's past, especially escaping it, brought him to Maine.
Emma's grandfather's past is wrapped up in the present crime, as is the past of the founder of the convent and others who were their contemporaries. The truth about those not knowing the past being condemned to repeat it is very much in evidence.
I've already started Heron's Cove the second book in the series, because I enjoyed visiting this place with these people. I'm looking forward to more of their adventures.

I give  Saint's Gate by Carla Neggers 4 brightly painted stars!
***FTC Disclaimer: Most books reviewed on this site have been provided free of charge by the publisher, author or publicist. Some books we have purchased with our own money and will be noted as such. Any links to places to purchase books are provided as a convenience, and do not serve as an endorsement by this blog. All reviews are the true and honest opinion of the blogger reviewing the book. The method of acquiring the book does not have a bearing on the content of the review.
Related Posts